Raymond S. Tu
Associate Professor
Main Affiliation
Chemical Engineering
Areas of Expertise/Research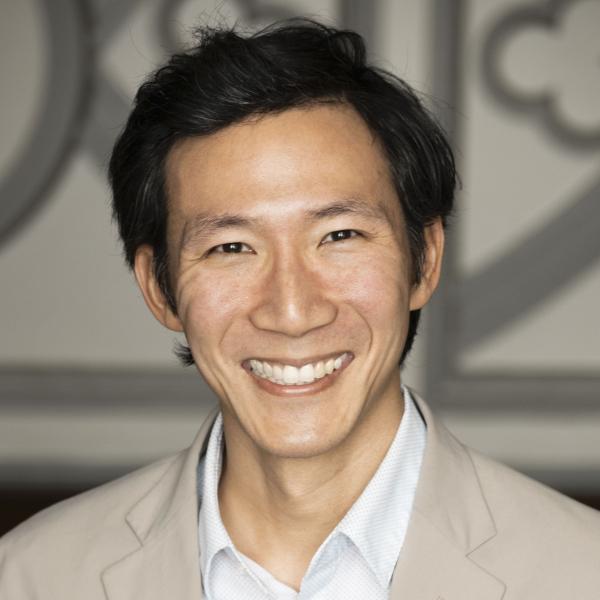 Raymond S. Tu
Profile
Raymond Tu received his PhD in chemical engineering from the University of California - Santa Barbara in 2004, studying the design and self-assembly of peptide functionalized molecular architectures.  He completed a post-doctoral fellowship in 2005 at Georgia Institute of Technology investigating rheological properties of biologically functionalized polymer-based materials.  Currently, he is an associate professor in the Chemical Engineering Department at The City College of The City University of New York.  The focus of his research program is the synthesis of surface-active molecular building blocks, which are derived from the combination of elements that direct interfacial assembly with components responsible for selective binding.  This methodology is proving to be an effective tool for engineering complex composite materials that contain structures with multiple length-scales. 
Website: http://rtu.ccny.cuny.edu/
Education
University of Florida, BS 1998
University of California – Santa Barbara, PhD 2004
Georgia Institute of Technology, PostDoc
Publications
JOURNAL PUBLICATIONS
Armoring the interface with surfactant to prevent the adsorption of monoclonal antibody. Kanthe AD, Krause ME, Zheng S, Ilott A, Li J, Bu W, Bera MK, Lin B, Maldarelli C, Tu RS ACS Appl. Mater. Interfaces, 2020 Just Accepted Manuscript • DOI: 10.1021/acsami.9b21979
Effect of Orientation and Wetting Properties on the Behavior of Janus Particles at the Air–Water Interface, Knapp EM, Dagastine RR, Tu RS, Kretzschmar I, ACS Appl. Mater. Interfaces 2020, 12, 4, 5128-5135. https://doi.org/10.1021/acsami.9b21067
Impact of Surface Amphiphilicity on the Interfacial Behavior of Janus Particle Layers under Compression. Razavi S, Lin B, Lee KY, Tu RS, Kretzschmar I. Langmuir 2019, 35, 48, 15813-15824. https://doi.org/10.1021/acs.langmuir.9b01664
Thermoresponsive Protein-Engineered Coiled-Coil Hydrogel for Sustained Small Molecule Release. Hill LK, Meleties M, Katyal P, Xie X, Delgado-Fukushima E,  Jihad T, Liu CF, O'Neill S, Tu RS, Renfrew PD, Bonneau R, Wadghiri YZ, Montclare JK, Biomacromolecules 2019 20 (9), 3340-3351. DOI: 10.1021/acs.biomac.9b00107
Interfacial Stress in the Development of Biologics: Fundamental Understanding, Current Practice, and Future Perspective. Li, J.; Krause, M. E.; Chen, X.; Cheng, Y.; Dai, W.; Hill, J. J.; Huang, M.; Jordan, S.; LaCasse, D.; Narhi, L.; Shalaev, E.; Shieh, I.C.; Thomas, J.C.; Tu, R.S.; Zheng, S.; Zhu, L. The AAPS journal 2019, 21, 44. DOI: 10.1208/s12248-019-0312-3
'Reverse' Hofmeister effects on the sol-gel transition rates for an α-helical peptide-PEG bioconjugate. O'Neill, S; Weber, J; Tu, R. S. Phys Chem Chem Phys. 2018, 20, 20287-20295. DOI: 10.1039/C8CP03316A.
Protein Engineered Triblock Polymers Comprised of Two SADs: Enhanced Mechanical Properties and Binding Abilities. Olsen, A. J.; Katyal, P.; Haghpanah, J. S.; Kubilius, M. B.; Li, R.; Schnabel, N. L.; O'Neill, S. C.; Wang, Y.; Dai, M.; Singh, N. Biomacromolecules 2018. 19 (5), pp 1552–1561. DOI: 10.1021/acs.biomac.7b01259
Long-Range Self-Assembly via the Mutual Lorentz Force of Plasmon Radiation. Ji, H.; Trevino, J.; Tu, R.; Knapp, E.; McQuade, J.; Yurkiv, V.; Mashayek, F.; Vuong, L. T.  Nano Lett. 2018.  18 (4), 2564–2570. DOI: 10.1021/acs.nanolett.8b00269
Evolution of mechanics in α-helical peptide conjugated linear-and star-block PEG. O'Neill, S.; Bhuiyan, Z.; Tu, R. Soft matter 2017, 13, 7521. DOI:10.1039/c7sm00968b
Circular Dichroistic Impacts of 1-(3-Dimethylaminopropyl)-3-ethylurea: Secondary Structure Artifacts Arising from Bioconjugation Using 1-Ethyl-3-[3-dimethylaminopropyl] carbodiimide. Kubilius, M. B.; Tu, R. S. ACS Omega 2 (11), 8308–8312. DOI: 10.1021/acsomega.7b01288
Introduction to Editorial Board Members: Professor Matthew V. Tirrell, Bioengineering & Translational Medicine. Tu, R.; Schneider, J. W.  2016, 1, 237-238.
Mechanical Stability of Polystyrene and Janus Particle Monolayers at the Air/Water Interface. Lenis J, Razavi S, Cao KD, Lin B, Lee KYC, Tu RS, Kretzschmar K. J. Am. Chem. Soc., 2015, 137 (49), 15370–15373
Adsorption of rationally designed ''surf-tides'' to a liquid-crystal interface. Badami JV, Bernstein C, Maldarelli C and Tu, RS. Soft Matter, 2015, 11, 6604-6612.
Collapse of Particle-Laden Interfaces under Compression: Buckling vs Particle Expulsion. Razavi S, Cao KD, Lin B, Lee KY, Tu RS, and Kretzschmar I. Langmuir, 2015, 31 (28), pp 7764–7775
Integrating the Chemical Engineering Curriculum Via a Recurring Laboratory. Kubilius MB, Tu RS Anderson R, Chemical Engineering Education, 2014, 48(4), 221-230.
Quantification of transient increase of the blood–brain barrier permeability to macromolecules by optimized focused ultrasound combined with microbubbles. Shi L, Palacio-Mancheno P, Badami J, Shin DW, Zeng M, Cardoso L, Tu R, Fu BM,  Intr. Jour. Nanomedicine., 2014, 9, 4437–4448.
Integration of surface-active, periodically sequenced peptides into lipid-based microbubbles. Badami JV , Desir P, Tu RS. Langmuir. 2014, 30 (29), 8839-47.
Bionanocomposites: Differential Effects of Cellulose Nanocrystals on Protein Diblock Copolymers. Haghpanah JS, Tu RS, Da Silva S, Yan D, Mueller S, Weder C, Foster EJ, Sacui I, Gilman JW, Montclare JK. Biomacromolecules, 2013 14 (12), 4360-4367.
Tether-Supported Biomembranes with alpha-Helical Peptide-Based Anchoring Constructs. Zhong, L, Tu RS, Gilchrist ML.  Langmuir 2013, 29, 299-307.
Engineering of an Environmentally Responsive Beta Roll Peptide for Use As a Calcium-Dependent Cross-Linking Domain for Peptide Hydrogel Formation. Dooley K,  Kim YH, Lu HD, Tu R, Banta S; Biomacromolecules, 2012, 13 (6), 1758–1764.  
Modulating Supramolecular Assemblies and Mechanical Properties of Engineered Protein Materials by Fluorinated Amino Acids. Yuvienco C, More HT, Haghpanah JS, Tu RS, Montclare JK,  Biomacromolecules 2012, 13, 2273-2278.
Compositional Control of Higher Order Assembly Using Synthetic Collagen Peptides.  Xu F, Li J, Jain V, Tu RS, Qingrong H, Nanda V, JACS 2011, 134(1) 47-50.  
Artificial Protein Block Polymer Libraries Bearing Two SADs: Effects of Elastin Domain Repeats. Dai M, Haghpanah J, Singh N, Roth EW, Liang A, Tu RS, Montclare JK; Biomacromolecules, 2011, 12 (12), 4240–4246.  
Interfacial templating of inorganic nanostructures using a growth directing and reducing peptide. Leon L, Su W, Matsui H, and Tu RS; Soft Matter, 2011, 7, 10285-10290.  
Coupled Folding and Specific Binding: Fishing for Amphiphilicity. Jain V and Tu RS, International Journal of Molecular Sciences, 2011, 12, 1431-1450.  
Self-Assembly of Rationally Designed Peptides Under 2-D confinement. Leon L, LoGrippo, P, Tu RS, Biophysical Journal, 2010, 99, 9.  
Cooperative DNA binding and assembly by a bZip peptide-amphiphile.  Tu RS, Marullo R, Pynn R, Bitton R, Bianco-Peled H, Tirrell MV,  Soft Matter, 2010, 6, 1035 – 1044.  
Supramolecular assembly and small molecule recognition by genetically engineered protein block polymers composed of two SADs. Haghpanah JS, Yuvienco C, Roth EW, Liang A, Tu RS, Montclare JK,  Mol. BioSyst., 2010, 6, 1662-1667.  
A pendant bubble study for the characterization and modeling of dynamic peptide folding and amphiphilicity. Jain V, Maldarelli C, Tu RS, J. Colloid Interface Sci, 2009, 331(2): p. 364-370.  
Dynamic surface-activity by folding and unfolding an amphiphilic α-helix. Jain V, Jimenez, A, Maldarelli C, Tu RS, Langmuir, 2008, 24(18) p.9923-9928.  
Rational Design of a Reversible pH-Responsive Switch for Peptide Self-Assembly. Zimenkov Y, Dublin SN, Ni R, Tu RS, Breedveld V, Apkarian RP, Conticello VP, JACS 2006, 128, p. 6770-6771.  
Cell adhesion on a polymerized peptide-amphiphile monolayer. Biesalski MA, Knaebel A, Tu RS and Tirrell MV, Biomaterials, 2006, 56, 1259-1269.  
Polymerized vesicles containing molecular recognition sites, Biesalski M, Tu RS, Tirrell MV,  Langmuir, 2005,  21(13),  5663-5666.  
Self-assembly of model DNA-binding peptide amphiphpiles. Bitton R, Schmidt J, Biesalski M, Tu R, Tirrell MV, Bianco-Peled H.  Langmuir, 2005, 21(25), 11888-11895.  
Microrheological detection of protein unfolding. Tu RS, and Breedveld V,  Physical Review E.  2005, 72(4): 041914.  
Bottom-up design of biomimetic assemblies. Tu RS, Tirrell MV, Advanced Drug Delivery Reviews, 2004, 56, 1537-1563.  
Liposomal targeting through peptide-amphiphile functionalization. Tu RS, Mohanty K, Tirrell MV,  Adv Pharm Reviews, 2004, 7(2), 36-41.  
Structure and function of integral membrane protein domains resolved by peptide-amphiphiles: Application to phospholamban. Lockwood NA, Tu RS, Zhang ZW, Tirrell, MV, Thomas DD, Karim CB, Biopolymers, 2003, 69 (3), 283-292. (Minor Contribution)

BOOK/BOOK CHAPTERS
Nguyen, Hung and Tu, Raymond "Comprehensive Biomaterials: Chapter - Surface Engineering Using Amphiphilic Peptides" ISBN: 9780081006917, Elsevier, June 2017
Li, Jinjiang; Krause, Mary; Tu, Raymond (Approved book contract) "Protein Instability at Interfaces During Product Development: Fundamental Understanding, Evaluation, and Mitigation" Springer Nature 2020.