Ryan Williams
Assistant Professor
Additional Departments/Affiliated Programs
Areas of Expertise/Research
Biosensors
Cancer
Kidney Disease
Nanomedicine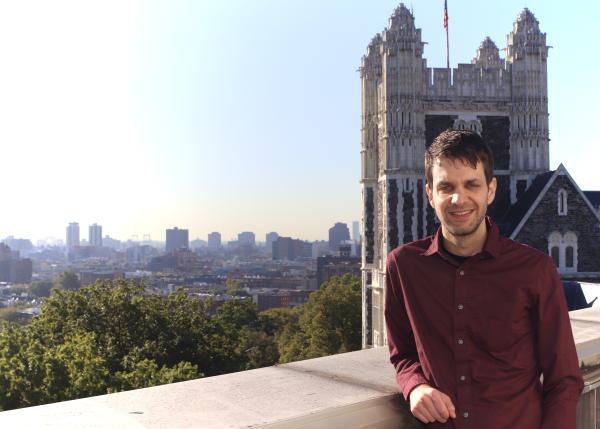 Ryan Williams
Training and Positions
B.A., Biology, University of Virginia, 2008
Ph.D., Pharmaceutical and Pharmacological Sciences, West Virginia University, 2013
Postdoctoral Research Fellow, Molecular Pharmacology, Memorial Sloan Kettering Cancer Center, 2013 - 2019
Assistant Professor, Biomedical Engineering, The City College of New York, 2019 - Present
Research
Research in the Williams Immune Nanomedicine Lab is focused on using nanomaterials to target and understand immune and inflammatory pathways in disease. Specifically, we design kidney-targeted polymeric nanoparticles as therapeutic tools for renal diseases. We also design implantable optical nanosensor devices as diagnostic tools for cancers and related diseases. We aim to translate these tools to the clinic and to use them to understand biological processes in disease.
Publications
For a complete list, please visit Google Scholar or NIH My Bibliography
Highlighted Publications:
Williams RM*, Chen S*, Langenbacher RE, Galassi TV, Harvey JD, Jena PV, Budhathoki-Uprety J, Luo M, and Heller DA. (2020) Harnessing nanotechnology to expand the toolbox of chemical biology. Nature Chemical Biology 17:129-137.
Harvey JD*, Williams RM*, Tully KM, Baker HA, Shamay Y, Heller DA. An in Vivo Nanosensor Measures Compartmental Doxorubicin Exposure. Nano Lett. 2019 Jul 10;19(7):4343-4354. (*co-first authors)
Williams RM, Lee C, Heller DA. A Fluorescent Carbon Nanotube Sensor Detects the Metastatic Prostate Cancer Biomarker uPA. ACS Sens. 2018 Sep 28;3(9):1838-1845. 
Williams RM, Lee C, Galassi TV, Harvey JD, Leicher R, Sirenko M, Dorso MA, Shah J, Olvera N, Dao F, Levine DA, Heller DA. Noninvasive ovarian cancer biomarker detection via an optical nanosensor implant. Sci Adv. 2018 Apr;4(4):eaaq1090. 
Harvey JD, Jena PV, Baker HA, Zerze GH, Williams RM, Galassi TV, Roxbury D, Mittal J, Heller DA. A Carbon Nanotube Reporter of miRNA Hybridization Events In Vivo. Nat Biomed Eng. 2017;1. 
Williams RM, Jaimes EA, Heller DA. Nanomedicines for kidney diseases. Kidney Int. 2016 Oct;90(4):740-5. 
Williams RM, Shah J, Ng BD, Minton DR, Gudas LJ, Park CY, Heller DA. Mesoscale nanoparticles selectively target the renal proximal tubule epithelium. Nano Lett. 2015 Apr 8;15(4):2358-64.