Zimei Bu
Professor
Main Affiliation
Chemistry and Biochemistry
Areas of Expertise/Research
Building
Marshak Science Building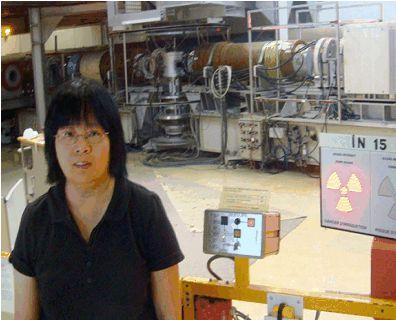 Zimei Bu
Profile
Biophysics, biochemistry, cell signaling, protein structure, protein dynamics, neutron scattering, small angle X-ray scattering.
Education
B.Engineering, Polymer Science and Materials, 1985, Sichuan University, China
PhD., Chemistry, 1994, Louisiana State University
NIH NRSA Postdoctoral fellow, Molecular Biophysics and Biochemistry, 1994-1999, Yale University
Courses Taught
Chem 10301 general chemistry
Chem 26200 Organic Chemistry Lab
Chem43500 Physical Biochemistry
Chem80541 advanced seminar in molecular biophysics
Professional Experience
Professor

9/2016-present

Department of Chemistry & Biochemistry, CCNY

Associate Professor

6/2010-8/2016

Department Chemistry & Biochemistry, CCNY

Assistant Professor

6/2003-5/2010

Fox Chase Cancer Center/Biomolecular Structure program, Philadelphia, PA

Chemist

4/1999-5/2003

National Institute of Standards & Technology

Gaithersburg, MD

Associate Scientist

6/1997-3/1999

Yale University/Molecular Biophysics & Biochemistry, New Haven, CT

NIH Postdoctoral Fellow

6/1994-5/1997

Yale University/Molecular Biophysics & Biochemistry, New Haven, CT
Research Interests
We study how cell signaling proteins transduce signals to control cellular functions.

We are particularly interested in studying the structural and dynamic mechanisms of transmembrane cell adhesion molecules, receptors, as well as the intracellular molecules that influence the assembly and function of these transmembrane proteins.  These proteins function as molecular machines and switches, which can fail to work properly for various reasons, causing diseases such as cancer and cystic fibrosis.  

We employ a variety of biochemical and cell biological experiments, as well as biophysical and structural biology techniques, including small angle X-ray and neutron scattering, to study the structure, dynamics, and interactions of these cell signaling proteins.
We  also utilize and develop quasielastic neutron scattering methods, particularly neutron spin echo spectroscopy (NSE), to study protein dynamics and protein domain motion.  We have developed a theoretical framework using statistical mechanics to interpret the NSE data.  These methods allow us to see, for the first time, the structure and dynamics of significant protein interactions on nanoscales.  NSE fills an important information gap in our ability to study protein motion on sub-microsecond time scales and on nanomenter length scales.