BS, Biomedical Education
Christopher Bandera, Class of 2011's Salutatorian, will be wasting no time to start medical school just ten days after graduation at New York University School of Medicine.
In recognition of his academic excellence and commitment to making a meaningful contribution to medicine, Mr. Bandera was the recipient of the $30,000 Sophie and Leonard Davis Scholarship. The award supports it recipients for their last two years at Sophie Davis School of Biomedical Education as well as their first two years of clinical study at cooperating medical schools.
Christopher, who holds a 3.98 GPA, looks forward to using his medical degree to practice pediatric oncology.  After witnessing his mother battle cancer and subsequently volunteering in the pediatric unit of Memorial Sloan-Kettering Cancer Center, Chris has realized it is his calling.  Last summer, Chris devoted his time to research demographic variable and superstitious beliefs about cancer risk at Memorial Sloan-Kettering Cancer Center and Queens Hospital Center, which was part of his Sophie and Leonard Davis Fellowship.
"When my mother was undergoing treatment for cancer, I noticed how her doctor cared for not only my mother, but also myself and my father. He was so compassionate and understanding – and that's the kind of doctor I hope to be," explains Christopher.
Although he has a full schedule on his shoulders, Mr. Bandera devotes his free time to helping others. Christopher is a peer tutor at the Sophie Davis Learning Resource Center as well as the Physiology and Pharmacology Department. As far as plans for after graduation, Christopher has laser-like focus on his goal of becoming a doctor.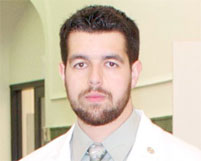 "I noticed how her doctor cared for not only my mother, but also myself and my father.  He was so compassionate and understanding – and that's the kind of doctor I hope to be."
- Christopher Bandera