BE, Biomedical Engineering
It seems Joenard Camarista has been embarking on his post-college career since he entered CCNY. Graduating with a BE degree in biomedical engineering and a 3.5 GPA, he has already become an active entrepreneur and inventor.
The son of immigrants from the Philippines who are both nurses, Joenard followed in their medical footsteps with an engineering twist. He thought about becoming a doctor, but craved the chance for innovation. "The most interesting solutions come out of the intersection of different disciplines," he said.
Joenard praises the biomedical engineering training at City College. "It helped me become not only technically savvy, but to be able to market an idea," he said. He has taken full advantage of this in his many activities – some of which have spawned products that may go to market. His team took first place in the Athgo 5th Global Innovation Forum 2013,
for which they developed a health- and fitness-promoting app. Another team of which he is a member is a finalist for CCNY's Kaylie Prize. He also coordinates activities at the Zahn Center for Entrepreneurship and Engineering.
But Joenard isn't strictly about business. In 2012, he volunteered in Nicaragua as an engineer in an impoverished hospital with the Engineering World Health Summer Institute and repaired aging medical equipment and invented new devices. "I learned that sometimes the most difficult problems have the simplest answers," he said.
After he graduates, Joenard plans to continue to develop his products and hopes to bring at least one of them to market.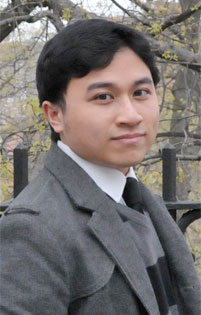 "The most interesting solutions come out of the intersection of different disciplines."
- Joenard Camarista