MS, TESOL (Teachers of English to Speakers of Other Languages)
Turkish native Asli Ogulcuklu Cevik has a simple explanation for her 4.0 GPA: she's a perfectionist. It is a trait that, along with growing up in a family keen on education and inspirational teachers, has seen her excel as both a student and instructor.
Two years after arriving in the United States for graduate school, Ms. Cevik is graduating from City College with an MS in TESOL. She has been accepted at Teachers College, Columbia University, to continue her education in applied linguistics and she has an offer to become an ESL instructor at another college.
Ms. Cevik will mull over her options after commencement but one thing she's made up her mind on is her career goal. "My aim is to train ESL teachers," she said. "It is why I came to City College to further my knowledge in TESOL after my undergraduate studies in Turkey and teaching ESL there."
CCNY has prepared Ms. Cevik well.
"The courses that I took have broadened my horizons in the field of English education and linguistics," she remarked. "In my last semester, I really got interested in some areas other than teaching, including educational psychology and linguistics."
School of Education Professor Hope J. Hartman, Ms. Cevik's mentor, has kudos for her student.
 "Asli is truly an outstanding student; one of the best I've had in over 30 years of college teaching. She is a budding scholar who can make unique contributions to areas that interest her, and her interests are varied, deep and passionate," she said.
In addition to her homeland, Ms. Cevik taught ESL in England and the Czech Republic before coming to the United States. Now the Brooklyn resident is on the cusp of a personal goal.
"It is a great achievement to come as an international student and be able to teach English in a country where it is spoken as a first language," she said.
Ms. Cevik thanks CCNY for that.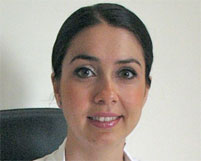 "It is a great achievement to come as an international student and be able to teach English in a country where it is spoken as a first language."
- Asli Ogulcuklu Cevik