BFA, Music
Marcus Childs Moore began playing violin at age eight in his hometown of Marion, Ala. He was influenced by bluegrass music, which dominated local radio there, but at age 14 he developed an interest in jazz after hearing Harlem-born jazz legend Sonny Rollins play live. Marcus couldn't articulate the effect, but the music stirred him immensely.  
Eventually he moved to  New York and enrolled at CCNY, where he has earned a B.F.A. in Music. Now an accomplished player, he has toured with the Harlem Symphony Orchestra and Wynton Marsalis and has worked in administration for Jazz at Lincoln Center.  At CCNY, he was violinist in five music ensembles and music director for a production of Professor of Theatre David Willinger's play "Bang, Bang."
The Washington Heights resident attributes his success in large measure to CCNY's Music Department faculty, especially Professors Dan Carillo, Scott Reeves, Mike Holober and Stephen Jablonsky. They "provided a nurturing environment and were consistently available to me and others," he says.  "Their passion for music and education is evident inside and outside the classroom."  
He was equally impressed by the stories, dreams and struggles of his student peers.  They helped to redefine and bolster his social conscience.  Marcus is a member of the Harlem Chapter of NAACP, the New York Urban League Young Professionals and a volunteer for Sowing Seeds of Hope.  
Marcus plans to attend law school at Howard University or Tulane University in the fall. (Ten other law schools accepted him.) He also intends to continue his musical development, which was nurtured so strongly at CCNY.  He hopes his legal career and jazz career will help develop a more pluralist and progressive milieu in his home state of Alabama.
(Watch Marcus on
"The Jump:"
)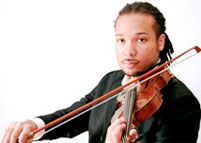 "(My professors) provided a nurturing environment and were consistently available to me and others. Their passion for music and education is evident inside and outside the classroom."
- Marcus Childs Moore