MA, Economics
The son of an engineering executive who came to the United States from South Korea for his PhD, Jin Chung spent his childhood on the move, living in New York, New Jersey, Virginia, Louisiana, Rhode Island and Massachusetts before enrolling at Boston University, where he earned a bachelor's degree in economics and biology. "It gave me the tools to meet and get acquainted with other people and adjust to different school systems," the Brooklyn native said.
At BU, he was introduced through his mentor to Dr. Matthew Nagler, an associate professor of economics at CCNY, who shared his interest in transportation economics and safety. Jin's undergraduate research on the impact of anti-texting laws on highway fatalities impressed Professor Nagler, who persuaded him to come here for his master's and offered him a research position.
In addition to his studies and research, Jin has tutored students in economics and statistics and is very active with the Graduate Student Council. As vice president for community affairs, he has worked hard to raise the organization's profile.
"There had been no real graduate community at City College, so I took it upon myself to identify issues on why students are not involved," he said. Since taking office, he conducted several "meet and greets" with fellow graduate students and ran the annual graduate research symposium, arranging to hold it for the first time in The Great Hall.
Jin has been admitted to the University of Connecticut's PhD program in financial econometrics. He is a member of Omicron Delta Epsilon,the national economics honor society and the Golden Key International Honour Society. Besides Professor Nagler, he thanks Professors Kevin Foster, Marta Bengoa and Heidi Zhao for their guidance and teaching.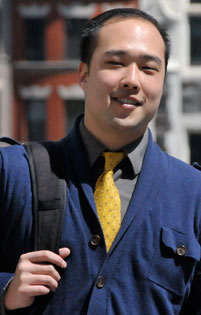 Jin's undergraduate research impressed Professor Matthew Nagler, who persuaded him to come to City College for his masters.