BS, Chemical Engineering
Born in Sri Lanka in a time of war, Chathuranga "Chat" DeSilva grew up learning to appreciate the need for improvements in sustainable energy. Due to frequent power outages, he spent many nights studying by candlelight. This motivated him to seek solutions to problems faced by developing communities and to study chemical engineering.
However, this ambitious student's dreams of pursuing an engineering education were put on hold after his father became critically ill and passed away. "My path to becoming a chemical engineer has not been an easy one," Chat says.
Chat moved to the United States in 2009. With only a few dollars in his pocket, he enrolled at CCNY and began working in the Office of the Vice President for Student Affairs to support himself and family.
As his journey unfolded at CCNY, Chat began to apply fundamental chemical engineering concepts to the realm of research and practical application. Working under the tutelage of Professors Glen Kowach, Dan Steingart and Ilona Kretzschmar, he advanced his knowledge of
solid-state batteries, surface science, solar cells and nanomaterials. His work enabled him to garner prestigious awards such as the Andrew S. Grove Award and City College Fellowship.
"City College is a place you can achieve anything if you set your mind to it. City College has not only supported me financially but also gone the extra mile for me," he says.
Chat plans to attend Columbia University in the fall to pursue a PhD in chemical engineering. Afterwards, he hopes to combine his chemical engineering background with the business aspect of industry to further develop his value in the global market.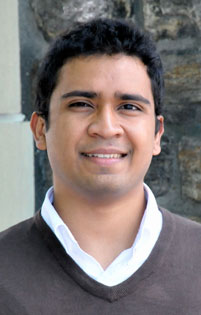 "City College is a place you can achieve anything if you set your mind to it."
- Chathuranga DeSilva