BA, International Studies
After he graduates, Truman Scholar and Iraq War veteran Don Gomez will be heading overseas again in the fall.  Only this time, he won't be going to fight.  Mr. Gomez, who was a sergeant in the U.S. Army's 82nd Airborne Division and had two tours of duty in Iraq, will enter the University of London's esteemed School of Oriental and African Studies (SOAS) after three stellar years at CCNY.  
"This is super-exciting news for me," the international studies major said. "I'm about to graduate from The City College of New York, a prospect that seemed long and improbable when I left the Army, and I will continue my education at a top-class institution."
Mr. Gomez, who served his country gallantly on the battlefield, aspires to a diplomatic career with the U.S. State Department.
His admission to SOAS, the world's leading center for the study of a highly diverse range of subjects concerned with Asia, Africa and the Middle East, is another feather in the cap for a student whose life at CCNY has been a whirlwind of success.
Just as he left the service with such military decorations as the Combat Infantryman Badge, the Joint Service Commendation Medal and the Parachutists Badge after two tours of duty in Iraq, Mr. Gomez will graduate from CCNY bedecked with honors.
The pick of his accomplishments was the 2009 Truman Scholarship, one of the most prestigious and competitive national scholarship programs.  It will provide up to $30,000 in funding for his studies at SOAS.  The Bellerose, Queens, resident was also a Colin Powell Fellow.
Further recognition of his academic excellence came in the form of a Benjamin A. Gilman International Scholarship from the International Institute of Education and a Pat Tillman Military Scholarship from the Pat Tillman Foundation. The two scholarships supported Mr. Gomez' semester at the American University in Cairo, Egypt, last fall.
Outside the classroom, Mr. Gomez has helped elevate the profile of veterans on campus. He established the City College Veterans Association and was active in the effort to establish a Veterans Affairs office on campus.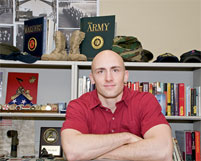 "I'm about to graduate from The City College of New York, a prospect that seemed long and improbable when I left the Army, and I will continue my education at a top-class institution."
- Don Gomez