PhD, Chemistry
Swapnil Jadhav was introduced to green chemistry as an undergraduate chemical technology major at University of Mumbai. But, when he looked to continue his studies after graduation, few people were conducting research in the field.
Through an Internet search he found Dr. George John, a fellow Indian who had recently joined the chemistry department at City College and was doing work on surfactants, compounds that reduce the surface tension of liquids. He wrote to Professor John and was accepted into the City University of New York's PhD program in chemistry. Last fall, he completed his degree and now works as a project leader in surfactants for Archer-Daniels-Midland (ADM) in Decatur, Ill.
"Professor John is the perfect mentor for a PhD student who is willing to work hard," says Dr. Jadhav. "He gives us freedom and encourages us to come up with our own ideas. Not only does he teach us how to tackle problems, but also to identify problems and come up with solutions."
Initially, Swapnil focused on developing bio-based surfactants for food applications, but during the course of his studies at CCNY discovered a host of chemical applications. Among these were biodegradable gels produced from fruit or tree crop waste that could be used to sop up oil from the surface of water and allow it to be collected for recycling.
His efforts earned him several awards including the Ciba Travel Award in Green Chemistry from the American Chemical Society and the American Oil Chemical Society's Ralph Potts Award for graduate research in the fields of fats and oils.
Dr. Jadhav says his achievements were a collective effort with many ideas coming about through discussions with CCNY science and engineering faculty and students. Among those he credits with helping him are Dr. Glen Kowach of the chemistry department and Drs. Alex Couzis, Charles Maldarelli and Raymond Tu in chemical engineering.
Moving to rural Illinois has been a "culture shock," he admits. However, ADM is a leader in surfactants and he hopes he will continue to develop green chemicals and other products there.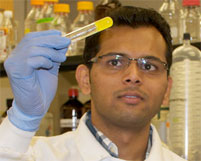 "Professor John is the perfect mentor for a PhD student who is willing to work hard. He gives us freedom and encourages us to come up with our own ideas."
-Swapnil Jadhav