MPA, Public Service Management
 
Hailing from Shoreview, MN, a suburb of St. Paul, Dawn Mikkelson hardly fits the profile of a typical City College student.  But this passionate Midwesterner has taken to CCNY and its environs like a fish to water.  She will graduate in the first cohort of the College's MPA program in public service management with a 3.68 GPA.
Initially, she came to CCNY to work toward a PhD in sociology.   However, she changed course after learning about the new MPA program.  "It clicked with me because of my passion for social change and social issues," she explained.  "This was an opportunity to put my ideals into action."
To integrate herself into her new community, she became a volunteer with the Harlem 40 and Harlem 50 projects, which are GED programs that were run by City College and St. James United Methodist Church.  Her experience as a tutor was an eye-opener, she recalls.  "Many of my students lacked a stable home life.  It was hard for them to get to the program and stay with it.  Their problems could be as simple as not having money for a Metrocard."
With Dr. Jean Kranso, a lecturer in the MPA program, as her mentor, Ms. Mikkelson began to develop an urban youth issues workshop that focused on issues affecting kids in the Harlem 40 and Harlem 50 programs.  Held in April 2009, it attracted participation from Deputy Mayor Dennis Walcott, Angela Jones of the New York Civil Liberties Union and representatives of the U.S. Fund for UNICEF, which awarded CCNY a grant for a summer youth program.
Ms. Mikkelson interned that summer at the National Disability Rights Network in Washington and over the 2009-10 school year with the New York Civil Liberties Union.  That added federal and state-level public policy experience to her repertoire, but she says she holds a unique passion for local community work.
For her capstone project, she assessed open space in Harlem and developed a plan to create a garden and small park on a vacant lot on W. 140th Street that will provide local youth with a safe place to play.   Over the summer, she will work toward making that goal a reality while she "job hunts like crazy."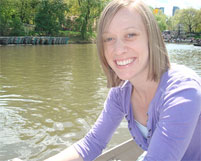 "[The new MPA program] clicked with me because of my passion for social change and social issues. This was an opportunity to put my ideals into action."
- Dawn Mikkelson