BS, Mathematics
As a little girl in Saudi Arabia, Samreen Nayyer would sit on the branch of a guava tree in her backyard and draw parallels between the vein patterns of the leaves while weaving stories about resident parakeets. She would use the ridges on the bark as an abacus to keep count of nests and eggs.
Samreen, City College's Class of 2009 Valedictorian, believes that this early interest in numbers and fiction inspired her twin passions – writing and mathematics – which she plans to pursue. The 21-year-old Rego Park resident is graduating from The Macaulay Honors College at CCNY with a 3.93 G.P.A. and a B.S. degree in Pure Mathematics.
"It's such a tremendous honor being named Valedictorian and one that's a culmination of the wonderful and life-shaping experience that I've had at City College," says Ms. Nayyer, who was born in Saudi Arabia to Pakistani parents.
A budding fiction writer, Samreen will spend a year taking advanced mathematic courses and fiction-writing classes in the CUNY system before enrolling in a doctoral program in pure mathematics in 2010.
Her goal is to teach at the college level while pursuing her childhood interest of writing fiction.
Her honors at CCNY have included the Dean's List (2006-08); the Jack Nash Scholarship (2007-09); the Peter Vallone Scholarship (2007-09); a Weston Public Service Fellowship (2008) and a Colin Powell Center for Policy Studies Community Engagement Fellowship (2008).
Under the Powell fellowship she devised and served as president of "Operation Smile," a community service project to raise funds for children born with cleft lips and cleft palates in developing nations.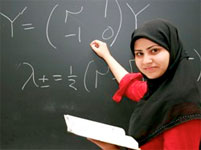 "It's such a tremendous honor being named Valedictorian and one that's a culmination of the wonderful and life-shaping experience that I've had at City College."
- Samreem Nayyer