BFA, Film & Video Production
The son of an internationally renowned conductor/composer and an opera singer, Vijay Nazareth grew up with music, but he is making his own mark in music videos. The native of Germany, who will be Class of 2013 salutatorian and is receiving a BFA in film and video production, has already established a reputation as a talented filmmaker and
award-winning YouTuber.
Vijay, who has a 4.0 GPA, founded along with his brother the YouTube channel AVbyte, which has more than 140,000 subscribers and attracts 100,000 views daily. Every Monday, the channel broadcasts new musicals produced by Vijay and his brother Antonius. This February, AVbyte won YouTube's 2013 NextUp competition, the website's top award. Vijay also
won the Best Short Film award at the 2012 Garden State Film Festival.
"Ever since I was four, I wanted to make films," he said. By the time he enrolled at CCNY in 2010, he already mastered the basics of filmmaking, co-founded his own film company and had two shorts on his resume. He is also pursuing a theatrical career on the side because, as he puts it: "as a filmmaker you must understand the craft."
His mentor, Professor Herman Lew, gives him top marks for that: "Vijay is a smart, intelligent student who demonstrates great ability in regards to both the art and craft of filmmaking." Vijay's additional academic honors include membership in the Golden Key International Honour Society and Phi Beta Kappa.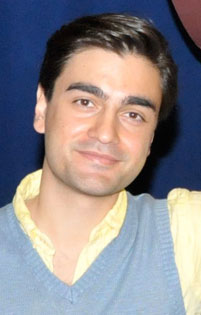 "Vijay is a smart, intelligent student who demonstrates great ability in regards to both the art and craft of filmmaking."
- Professor Herman Lew