BArch, Architecture
Being an architecture major is challenging enough, but doing it as a student in the Macaulay Honors College at City College is truly daunting.  That is the challenge Alex Nizhikhovskiy took on for himself.  Alex, who will receive the BArch degree from the Bernard and Anne Spitzer School of Architecture and has a 3.87 GPA, is headed to the Harvard University School of Design to work toward his master's degree.
Born in St. Petersburg, Russia and raised in Brooklyn, Alex has been building and drawing since he was little.  But, his interest in architecture solidified while he was a student at Brooklyn Tech High School.  He applied to CCNY because it was the only public college in New York City with an architecture school.  Acceptance into the Macaulay Honors College, which provides free tuition and a research stipend, sealed the deal.
At first, he admits, he wasn't sure what to expect since he hadn't heard much about CCNY's architecture school.  However, the program "exceeded my expectations," he says.  A second-year studio with Adjunct Professor Arthur Haritos changed his perspective on the profession.
"Arthur got me to conceive buildings from the inside out; to understand how a space would feel to a person, as opposed to just designing something that looks nice," Alex recalls.  "That second year I matured 10 times over as an architect."
As a Macaulay Honors College student, Alex says he felt part of a "community within the school."  Being able to take liberal arts courses provided a "nice break.  It made it easier to work at the architecture part by being able to get away from it and come back with a fresh perspective," he explains.  In addition, he used his research stipend to fund trips to Italy and Greece to broaden his knowledge of architecture.
Alex admits that balancing demands of architecture school and honors college classes was not easy, especially in his first two years.  "There were a lot of sleepless nights when I would leave the studio at 8 a.m. and go straight to class," he recalls.  But, he adds, his City College education not only shaped his understanding of architecture, but also transformed it from something he was interested in into a real passion.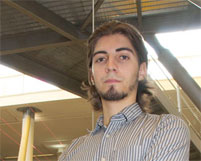 "Arthur got me to conceive buildings from the inside out; to understand how a space would feel to a person, as opposed to just designing something that looks nice."
- Alex Nizhikhovskiy