BE, Chemical Engineering
Arash Nowbahar's research has spanned topics great and small, from crumbling ice shelves to self-assembling molecules. He helped synthesize a new polymer while he was still in high school as a summer research intern, and his symposia presentations have ranged from chemistry to geophysics.

The CCNY senior explained his breadth of study areas: "It is not that I don't like things," he insisted. "It's that I like everything." Arash will graduate with a Bachelor of Engineering in Chemical Engineering and a 4.0 GPA this spring.

The diverse subjects of Arash's research have much in common. "When people ask me what I'll study in graduate school, " he said, "I tell them I like soft materials."

Last summer, through a Partnership for Research and Education in Materials fellowship at the University of Chicago, Arash modeled how vibrations travel through ice shelves and how this plays a role in sea level rise.

Since 2009, he worked in the lab of his mentor, Dr. Raymond Tu, assistant professor of chemical engineering. There, he analyzed the self-assembly of soapy molecules into tree-like patterns of crystals that can be used in the construction of electronics.

 "We can look at any defects in the ice in the same way we look at defects in semiconductors," he said. Huge crevasses in the ice are like wells in a silicon chip. Crevasses change how vibrations travel through an ice shelf just as wells in semiconductors alter the flow of electrons.

Arash's diversity of interests echoes the richness in his family background; his mother is from Argentina and his father is from Iran. At CCNY he spent two years as a New York Hall of Science Explainer through the NSF-funded CLUSTER* Fellowship. He has received a Whitford Scholarship, was a NACME Scholar and a Louis Stokes Alliance for Minority Participation Fellow.

In the fall, Arash will begin graduate studies at the University of California, Santa Barbara, which has top programs in both materials science and chemical engineering.
 
Back to Great Grads Archive >>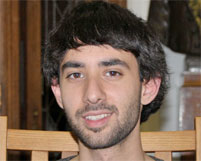 "It is not that I don't like things. It's that I like everything."
- Arash Nowbahar.