BA, Interdisciplinary Arts and Sciences
"If at first you don't succeed, try, try again" is a maxim  that Agnes Peña has taken to heart.  At  the time a student at City College's Center for Worker Education (CWE), she  became discouraged in the aftermath of September 11.  "I just couldn't deal with going to school  then," she explained.
Eight years later, she picked up the ball again.  This time, however, she went the distance and  will graduate in June with a BA in interdisciplinary arts and sciences from the  Division of Interdisciplinary Studies, as the CWE program is now known.
A native New Yorker who graduated from high school in Puerto  Rico, her story took her to Miami.  While  her musician husband was breaking into that city's burgeoning music scene, she  earned an associate's degree at Miami-Dade College.
Initially, she wanted to become a paralegal, but changed her  mind after realizing she "liked lawyers, but didn't like working for  them."  A position in the human resources  department at American Lawyer Media turned out to be a perfect fit.  She moved to the company's fledgling cable  television network, Court TV, and rose to become vice president of human  resources.  Despite her success in the  corporate world, she realized not having a bachelor's degree would hold her  back.
"I could have gotten another job, but I didn't want to  explain my lack of a bachelor's.  It's a  handicap."  In 2009, she returned to CWE  as a full-time student to fulfill a "lifelong dream deferred."
Not working was a tough financial decision, but Agnes says,  "I don't regret it at all.  It's been  terrific.  CWE gets you to think and  question things a little more deeply and a little more importantly.  You get a truly deep and broad palette of  learning and come away with the tools to attack any area you are interested in."
Agnes now plans to return to the human resources field,  armed with new perspectives that she says will enable her to contribute  more.  She also plans to apply to the  Division's new Master of Arts in the Study of the Americas program, but as a  part-time student.  "I'm a lifelong  learner now," she adds.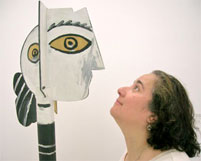 CWE gets you to think and question things a little more deeply and a little more importantly."
- Agnes Pena