BS, Biomedical Sciences (Sophie Davis)

For Andrew Rivera, City College's Class of 2009 Salutatorian, May 28 marks the end of one exciting journey and the beginning of a lifelong dream to serve those in need as a physician.  

Andrew will graduate from the Sophie Davis School of Biomedical Education summa cum laude with a B.S. in Biomedical Sciences.  He enters the New York University School of Medicine next month for the final two years of his studies before he embarks on a medical career.  

The Forest Hills resident can't wait. "My goal is to participate in medical research as well as to reach out and provide healthcare to those who have little or no access to quality care," he says.  "I feel fortunate that I have been able to pursue my studies in a setting that encourages and fosters success."
 
Dr. Dani L. McBeth, Associate Dean for Student Affairs at Sophie Davis, hails Mr. Rivera as an outstanding student with an impressive record of academic performance and service in various communities. "Andrew represents all that is wonderful about The City College," says Dr. McBeth.

In 2006, Andrew was selected as a teaching assistant based on the quality of his coursework. He taught the fundamental concepts of Community Orientated Primary Care at Columbia University's School of Continuing Education.

As a Leonard Davis Community Service Fellow, Andrew volunteered with the non-profit "In Arms Reach" program in 2006 and 2007 to tutor and mentor children of incarcerated parents.  The Mack Lipkin Fellowship took him to Barcelona in 2008 to investigate whether deviations from the traditional Mediterranean diet were responsible for the recent increase in obesity in Spain.  He discovered that they were.
 

Back to Great Grads Archive >>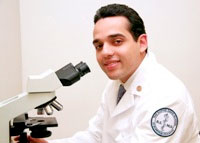 "I feel fortunate that I have been able to pursue my studies in a setting that encourages and fosters success."
- Andrew Rivera