BA, English
Having a strong writing background and a passion for – and interest in – medicine has given Maurice Selby the opportunity to study and excel in two markedly different areas.  An English major with a minor in premedical studies, he will graduate from CCNY summa cum laude and Phi Beta Kappa.  Next fall, he will begin medical studies at SUNY Downstate Medical Center as a Jonas E. Salk Scholar.
"In high school, I wasn't ready for medicine mentally," Maurice said. "However, my father's death from colon cancer affected and motivated me to pursue a career in medicine." The Staten Islander, who now resides in the Bronx, plans to continue to study immunology and hopes to practice as a family physician.
At City College, Maurice developed an interest in immunological development and function. His research used immunogold labeling and scanning electron microscopy to show distribution of the pH91 antigen on thymic nurse cells.  His discovery could have therapeutic relevance in development of reagents to combat autoimmune diseases.
Balancing work, school and a lengthy commute from Staten Island did not preclude Maurice from being a very active member of the campus community.  He served as editor of "The Paper," president of the Minority Association of Pre-health Students (MAPS) and as host of WHCR-FM's "Health in Harlem" program.
Maurice's academic awards include dean's list, the Alberto Traldi Memorial Award for Excellence in Italian, the CUNY Leadership Academy Leadership Award, the Kaye Scholarship for Studies in the Humanities and the Annual Biomedical Research Conference for Minority Students Travel Award.  A volunteer EMT, he has received a Distinguished Service Medal from North Shore Rescue Squad No. 1 in Staten Island.
He credits City College for having taught him to improve his study habits, which helped him to succeed.  "City College is a great place with access to great people, facilities, diversity and the city.  If you choose to take advantage of all these things, you cannot fail."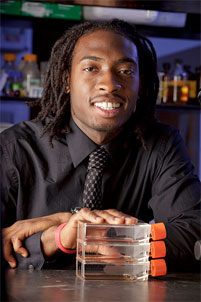 "City College is a great place with access to great people, facilities, diversity and the city. If you choose to take advantage of all these things, you cannot fail."
- Maurice Selby