BA, Communications
City College opened many doors for Anne Tan, a graduating senior in the William E. Macaulay Honors College. But, more importantly, Anne's passion and drive as a communications professional, coupled with her academic and professional accomplishments, are enabling her to open doors on her own.
As the Israel E. Levine Scholar, the Advertising/Public Relations Program's highest senior award, Anne has distinguished herself as an outstanding student throughout her City College career. With a 3.84 G.P.A., Anne has earned numerous scholarships and entry into the Gamma Chapter of Phi Beta Kappa National Honor Society.  
Her recent accomplishments include: The Art Stevens CCNY/PRSA-NY Public Relations Scholarship and the City College Kaye Scholars Program in the Humanities and the Arts in 2008. Anne also served two years as Vice President of the Honors Students Activities Committee.
During the Fall 2008 semester, she was a service-learning advocate at the Colin Powell Center for Policy Studies.  Her responsibilities at the Powell Center included serving as a liaison between CCNY faculty and students and various non-profit organizations throughout New York.
"CCNY enriched my life in many ways," Anne says. "My work with the Colin Powell Center has allowed me to practice leadership and advocacy. The PR/Advertising capstone course gave me insight into real-world professional practices. My William E. Macaulay academic stipend enabled me to travel the world and explore other cultures. Guidance from Professor Appelbaum led me to my current internship, which I love!  I owe my growing self-confidence to my CCNY education."
A resident of Sunnyside, Queens, Anne will be a fulltime intern with Carmichael Lynch Spong, a New York-based public relations agency, for the summer.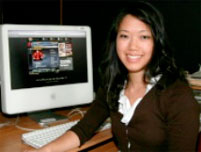 "CCNY enriched my life in many ways… I owe my growing self-confidence to my CCNY education."
- Anne Tan