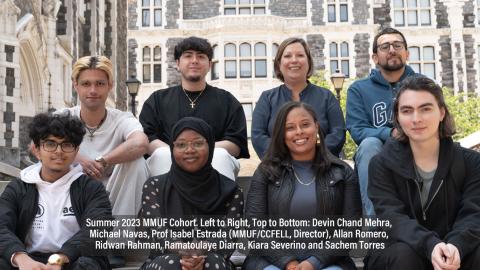 Click here to apply for the CCNY Fellowship
Click here to apply for the MMUF Fellowship
| | |
| --- | --- |
| Read more about fellow Randy E. Garcia (Anthropology/History Major) who is headed to Japan after winning two prestigious scholarships to attend the Middlebury Language School Japanese Immersion Program, and the inaugural Japan-United States Friendship Commission Summer Institute (JUSFC). | Congratulations to City College Fellow, Charanjot Singh, Physics major, who received the Top Presenter Award at American Physical Society's (APS) Future of Physics Days Fair held March 5-10, 2023 for his presentation: "Strain engineering effects on the optical properties of bilayer MoS₂." |
| | |
| --- | --- |
| Meet the remarkable 2023 CCNY and Mellon Mays Fellows graduates. Each of these students leaves CCNY with an academic goal for greatness. | A hearty welcome to our incoming MMUF and CCFELL Fellows! They join a community of outstanding students who share a common interest in research and common aspirations to earn a Ph.D. |
The City College Fellowships Program is an umbrella program administering two undergraduate fellowships: The City College Fellowship (CCFELL) and the Mellon Mays Undergraduate Fellowship (MMUF).  It brings together approximately 10 Mellon Mays Undergraduate Fellows and 25 City College Fellows into a single, highly diverse and vibrant community of outstanding students who share a common interest in research and common aspirations to earn a Ph.D.
The Fellows 
All Fellows share a common interest in independent research and benefit from faculty mentoring, financial support, pre-graduate school advising, opportunities to present research at conferences, and a supportive intellectual community.
Eligibility
The eligibility criteria and financial benefits of the two fellowships vary according to the specifications of the donors. See the description of each fellowship for details.
No student may hold more than one of the fellowships simultaneously, although it is possible to transfer from one to another for those who meet the eligibility criteria. For example, a student who wins a City College Fellowship in his or her sophomore year may apply to transfer to the Mellon Mays Undergraduate Fellowship as a rising junior.
Information
The program is housed at City College in room 6/316 of NAC (North Academic Center). We may be reached by telephone (212-650-8388) or email, ccfell@ccny.cuny.edu .
Quick Links
CONTACT INFORMATION
Prof. Isabel Estrada
Director of Program
Associate Professor of Spanish
Office hours by appointment.
North Academic Center
Room 5/223
160 Convent Avenue
New York, NY 10031

p:  212.650.7468
e: iestrada@ccny.cuny.edu