Rebecca Carter 
I came to City College as a transfer student from a tiny liberal arts college in suburban Arkansas. People quiver at such information, mistaking my love for bagels with cream cheese and lox as phony and uninspired. But I grew up in New York City, on the Upper West Side, and my love for all things New York is real and deep. Escaping to the South for a year and a half was only a way for me to reflect on the city that has made me me.
So it was not unusual that I came to City College to further my understanding, and enhance my experience with truly unique opportunities. I envisioned an environment where passion and interest flowed from both professor and student, where mastery and understanding of subject matter represented only one of the many aims of my fellow peers. I was far from disappointed, and soon found that my expectations had been surpassed as my classmates clamored for the opportunity to speak and have their opinions voiced. It was in my Psychology of Religion course, my first Jewish Studies class, that I was most impressed with my peers' vigor to learn. It was here that the classroom became almost a sacred setting, where abstract concepts were slowly unpacked with prudent inquiry. It soon became, simply, a place where I loved to learn. A few months later, I declared a major in Jewish Studies.
My family and friends responded enthusiastically to my decision, though some friends thought it was a bit strange that a shikse would be so interested in a culture that did not resemble her own. People's immediate response is, "Oh, are you Jewish?" Maybe some day I will choose to be chosen, but for now I am content studying about this ancient and evolving culture from an academic perspective.
During the past four semesters, I have studied contemporary Jewish literature, a course that complemented my English major, looked at the stories from the bible from an academic and analytical perspective, taken a trip to the Dominican Republic to explore the mixture of Jewish and Caribbean culture. In addition to having declared an English and Jewish Studies major, I am currently enrolled in the Secondary Education program, studying techniques to become a high school English teacher here in New York City. While learning to teach from a methodical approach will certainly be helpful in my future career, the ways in which I became an impassioned and perpetual learner here at City College, particularly in the Jewish Studies Program, will always inform who I am, and who I want to be. 
Aalia Ali
Aalia AliMy journey into Jewish Studies began before I even knew I would spend more than a couple semesters at City College. I had planned to attend Pratt Institute and double major in Art History and Fine Arts. However, when I received my tuition bill, which was at an Ivy League price, I decided that I would take a year off. I wanted Pratt more than anything, but I wasn't sure if I wanted to be limited to studying the Arts— especially for that price. A friend suggested that I use my year off to take classes at City College while I thought Pratt over.

Then I met a Jewish Studies professor on registration day. He suggested that I take his "Jewish Law and Ethics" class to fill a space in my program. I had always been interested in theology, and thought it would be fun to take a class in that field. The abridged version of where things went from there is that I loved the class, and the next semester I took three more Jewish Studies classes. Since I had already finished the requirements for the minor, I declared myself a major. There are several reasons I decided to continue: the faculty is brilliant; the program is a community of people who are smart, warm, and a pleasure to work with; and its courses are stimulating and fascinating.

I'm not sure that what I've learned can be applied to a career, but it can be applied to how I live. One of the best aspects of Jewish studies courses is that they challenge you to see things with an open mind and unearth the essence of your beliefs. Being a Jewish Studies major is something I do for myself. The initial reaction I get when I tell people that I'm a Jewish Studies major is usually bewilderment. And then they ask "Are you Jewish?" or "Are you going to convert?" I was born in Trinidad, of Indian descent, but have
lived in New York all my life. I am not Jewish. I'm Muslim and have no intention of converting to Judaism. A bonus of being a Muslim Jewish Studies major is that after the moment passes when someone thinks of it as an oxymoron, I've just broken a stereotype. Then they start asking questions and I try to emphasize embracing the similarities between cultures—such as those between my Jewish cousins and myself—and accepting the differences.
Michelle Ayoub
Michelle Ayoub"Aatenee hetha ilsuhn," my mother said, nodding toward the plate beside me, as she prepared the Sunday meal. I shook my head. "If you want the plate, speak to me in English." I was headstrong even at ten. Both my parents had emigrated from Lebanon to Australia as small children, so they seldom spoke their native tongue at home. Attempts to do so were invariably met with defiance from two children eager to assimilate in a world that celebrated homogeneity and denigrated "wogs," the offensive slang used to describe those of ethnic origin.

I am not sure exactly how this rigid young girl evolved into an outward-looking, inquisitive woman, but by the time I was in my late teens, I had discarded the naïve insularity of my childhood. By the age of nineteen, after my eye-opening trip to India, travel had permeated my mind. In the moment that I caught a world of pain reflected in a leper's eye, while meandering through Connaught Place, I felt an intensity of emotion that still drives me to explore lives and places outside the boundaries of my existence.

Not satisfied to connect with the world through travel alone
though, I decided to satisfy my craving for new worlds through the study of English literature. Nearly three years ago, I made the difficult decision to leave my home in Australia and travel to New York in order to actualize this dream. Doing so signified a great adventure, but it also meant leaving behind the close-knit life I had enjoyed with my family and friends, and accepting the financial burdens and insecurities involved in such a momentous step. But I was determined to satisfy my hunger for enlightenment and create something extraordinary out of my life.

My university experience at City College has so far been stimulating on many levels. I would never have imagined that the same little girl who had become so distanced from her ethnicity would one day be studying Arabic at university. My decision to move so far away from family has sparked a renewed passion for the language of my heritage. Today, if my mother were to ask me to pass the plate, I would proudly reply, "Be kul surur"—with pleasure. I have developed a heightened appreciation for the value of all language and culture, and I am equally excited about the possibility of studying Hebrew as part of the Jewish Studies program at City College. And after learning both these closely related languages, the natural progression will be to finally fulfill my aspiration to journey to the neighboring countries of Israel and Lebanon—Lebanon, of course, because it is the place of my roots, and Israel, due to the deep indefinable attraction I have for both this ancient land and the Jewish culture.

Since as far back as I can remember, I have had a preoccupation with all things Jewish, on a level that, up until recently, I never had for my own Arabic traditions—traditions that I had been unappreciatively immersed in. This longstanding affinity for the Jewish culture, and fascination with Judaism, endures. Perhaps it
arises out of an awareness of the often overlooked, yet intimate, bond between the Arab and Jewish peoples, and perhaps not. In any case, by majoring in Jewish studies, I hope to transform this visceral allure into a more perceptible knowledge of Jewish history, culture and literature. And, by enrolling in the Jewish Studies program, as with English literature, my motivation is the same: to immerse myself in unfamiliar dimensions, to seek new visions, new ways of inhabiting the world. At the same time, I anticipate that by being exposed to a rich spectrum of Jewish experience, I will attain a greater understanding of the problems that characterize the universal human experience.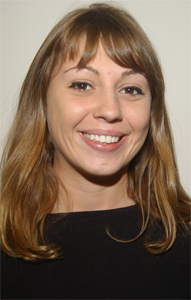 Rebecca Carter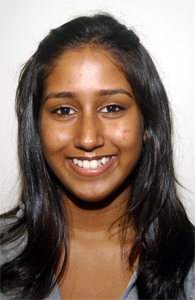 Aalia Ali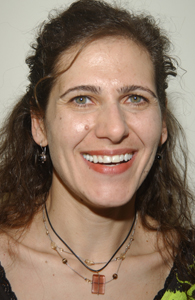 Michell Ayoub

Last Updated: 07/04/2015 15:06