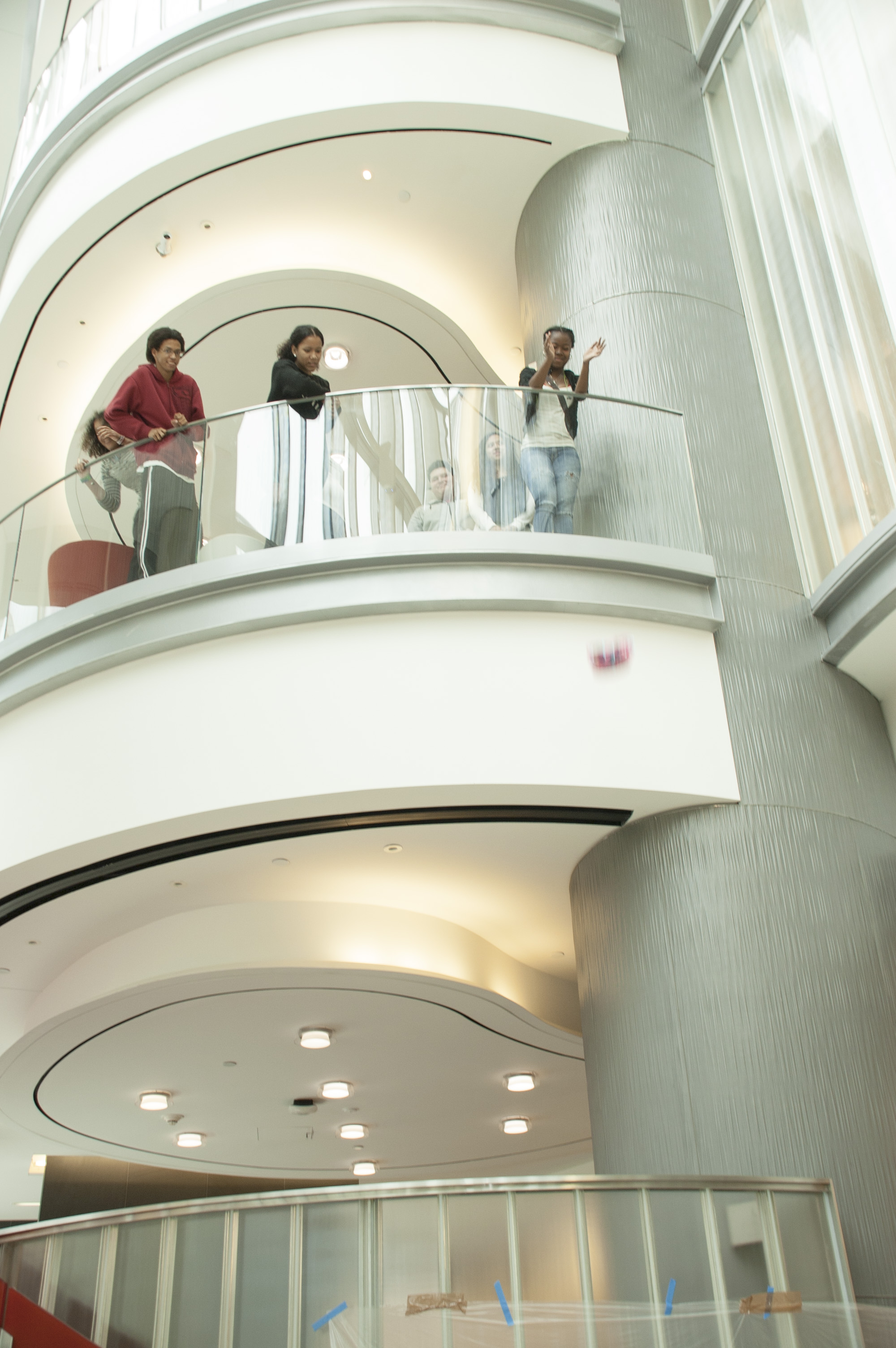 Forty students from Urban Assembly School for Wildlife Conservation put their knowledge of Newtonian physics to the test on Friday, using nothing more than household materials and an egg.
Under the watchful eye of City College of New York Chemistry and Biochemistry Professor David Jeruzalmi, 10 teams of four or five students each dropped an egg, encased in a homemade container, from the second floor landing of the City College Center for Discovery and Innovation lobby. The experiment, dubbed "Project Egg Drop," teaches the students what materials and design concepts can prevent an egg from breaking when dropped from a height of six meters, or about 20 feet.
Some of the more ingenious contraptions included a Haagen-Dazs ice cream container attached to a plastic bag that acted as a parachute; a lunchbox; and an athletic shoe. The eggs were swaddled in protection as varied as bubble wrap, sponges and newspapers.
Once the experiments conclude, teacher Eva Rose Davis requires each student to write a lab report, in which they answer questions about what they learned from the experience.
This is the second "Project Egg Drop" to occur in CDI. The first took place this past spring.
Jeruzalmi and his colleague, CCNY Biochemistry Professor Ranajeet Ghose, conceived this idea as an effort to engage New York City's pre-college community and to interest them in pursuing academic careers in the sciences at CCNY.
As part of their visit, the students also toured the facilities and spoke with admissions officers.
About The City College of New York
Since 1847, The City College of New York has provided low-cost, high-quality education for New Yorkers in a wide variety of disciplines. More than 16,000 students pursue undergraduate and graduate degrees in: the College of Liberal Arts and Sciences; the Bernard and Anne Spitzer School of Architecture; the School of Education; the Grove School of Engineering; the Sophie Davis School of Biomedical Education, and the Colin Powell School for Civic and Global Leadership. U.S. News, Princeton Review and Forbes all rank City College among the best colleges and universities in the United States.