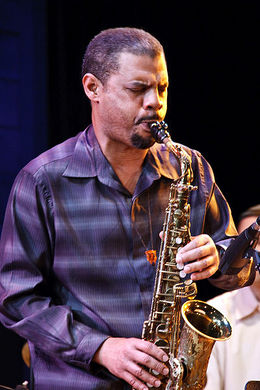 The 12th Annual CUNY Jazz Festival, a gathering of bands and ensembles from across the CUNY system, takes place May 3-4 in Shepard Hall, Rooms 306 and 190, at The City College of New York at 140th Street and Convent Avenue in Manhattan. Saxophonist Steve Wilson, hailed by "The Wall Street Journal" as "essential to this city's jazz landscape," will be the festival's guest artist. ?
The festival opens 12 Noon Thursday, May 3, with a performance by the CCNY Jazz faculty ensemble, comprising Professors John Patitucci on bass, Dan Carillo on guitar, Mike Holober on piano and Paolo Orlandi on drums.
This year's festival features ensembles from CCNY and four other CUNY colleges: Hunter College, Queens College, York College, and the College of Staten Island. A student ensemble from Shobi University will also perform. Student groups perform from 1 p.m. to 6 p.m. Thursday and 12:30 p.m. to 6 p.m. Friday.
Mr. Wilson will be featured with the CCNY Jazz Orchestra and host an open jam session 8:30 p.m. Thursday. He will also perform with his own group, "Wilsonian's Grain," at the Gala Concert to close the festival, which begins at 7:30 p.m. Friday, May 4.
"Steve Wilson is one of the most important voices on alto saxophone. I am thrilled to have him as our guest artist at the 2012 Festival," said Professor Holober, the festival director. "Now in its 12th year, the CUNY Jazz Festival has evolved into the most important event on the CUNY jazz calendar, and City College has enjoyed being the host and sponsoring an event in the spirit of the joy of performing and thriving in an educational environment."?
The festival is presented by The Simon H. Rifkind Center for the Humanities and the Arts at City College and the City College music department in cooperation with Jazz at Lincoln Center. Admission to all events is free. 
About Steve Wilson?
Steve Wilson is an American jazz multi-instrumentalist, who is best known in the musical community as an alto and soprano saxophonist. The Hampton, Va., native was nominated by the Jazz Journalists Association as Best Alto Sax Player in 2008, and in 2010 in the category of Best Soprano Sax Player.
Mr. Wilson's impressive discography includes seven albums as a leader, with sideman appearances on more than 100 other albums. He has recorded with such celebrated and wide-ranging artists as Chick Corea, George Duke, Michael Brecker, Dave Holland, Dianne Reeves, Bill Bruford, Gerald Wilson, and Maria Schneider.
Mr. Wilson's current projects reflect his multifaceted artistry, versatility, and associations with some of the most highly regarded artists on the scene. His quartet, "Wilsonian's Grain," which includes Kevin Hays on piano, Ugonna Okegwo on bass and Bill Stewart on drums, has been featured on NPR's "Live from the Kennedy Center" and at the Village Vanguard in New York, and headlined the prestigious Detroit Jazz Festival in 2011.
?