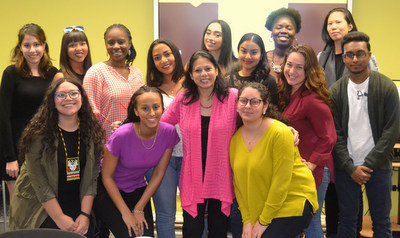 Education professor Amita Gupta [center] with the CCNY study abroad group she leads to India.
Thirteen students, a mix of undergraduates, graduate and Phd candidates from three institutions, make up the first cohort of participants in the new City College of New York-India Study Abroad program starting on January 1 in New Delhi. Ten of the group are from City College, two from The Graduate Center, CUNY; and one from Lehman College.
The students were selected from a list of applicants and represent various disciplines, including early childhood education, bilingual education and TESOL, urban education, anthropology, electrical engineering, liberal studies and international studies.
They are (CCNY unless stated):
Moraima Avalos, undergraduate;
Wendy Barrales, Phd candidate (Graduate Center);
Puiyee Cheung, graduate;
Meghan Cuadra, undergraduate;             
Michael Daiowraj, undergraduate;         
Aminata Diop, Phd candidate (Graduate Center);
Lauren Fleming, graduate;
Jasmine Kasheboon Khoury, undergraduate;
Claudia Lara, graduate;
Jennifer Morron, graduate;
Erica Sabino, graduate;
Christina Singh, graduate; and
Lilai Teckie, graduate (Lehman).
They will be led by Amita Gupta, chair of the CCNY School of Education's Department of Teaching, Learning and Culture and the India program's course instructor.
The intensive two-week program incorporates interdisciplinary perspectives on education in India drawn from history, political science, spirituality, sociology, economics, arts and culture. Participants will receive three graduate credits for their work.
CCNY offers study abroad opportunities to numerous destinations in Europe, South and Central America, Africa, the Middle East and Asia. For more information, contact the Study Abroad Program.
About The City College of New York
Since 1847, The City College of New York has provided low-cost, high-quality education for New Yorkers in a wide variety of disciplines. More than 15,000 students pursue undergraduate and graduate degrees in eight professional schools and divisions. View CCNY Media Kit .