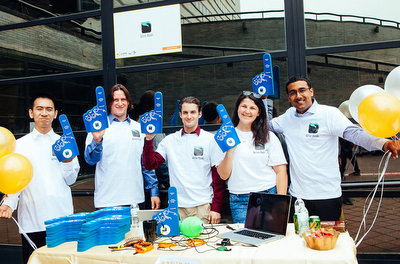 Student startups pitching innovations from a device that gauges the movement of people with neurological diseases to a "computer garden" are among the grand prize winners in the Zahn Innovation Center's 2017 venture competition at The City College of New York. The budding inventor/entrepreneurs earned $150K in prizes to use towards their businesses.
The startups competed in four categories. Some startups designed hardware devices, others created software, some focused on social impact, and others were women-led ventures that leveraged technology for NYC. The startups at the Zahn Center have both a hyper-local focus in the city, as well as a global perspective in congruence with City College's diverse student body.
Active Hands won the $50,000 Kaylie Hardware Prize for its prototype of a tracking device that assesses the movements of people with cerebral palsy and other neurological diseases.
The $25,000 Zahn Technology Prize went to Wrkbook for its platform that instantly connects contractors to skilled laborers.
SyStem, a "computer garden" that grows food without soil or harmful chemicals, received the $25,000 Zahn Social Impact Prize.
In the Standard Chartered Women+Tech4NYC category, City LABscape's conception of hands-on indoor agriculture-based STEM education garnered the $25,000 top prize.
The runners-up in all four categories each received $5,000. They are:
SnapPitch, for an electronic baseball strikezone to improve pitching (Kaylie Prize);
 
Cyqlo, for a mobile guide for cyclists (Zahn Tech);
 
dawaCare, for a patient engagement service focusing on follow-up care in developing nations (Social Impact); and
 
Enrich – for a website/app to help parents find and rate after-school programs.
Click here for all the winners in the 2017 venture competition.
 About the Zahn Innovation Center
The Zahn Innovation Center, a program of the City College Fund, is at the heart of entrepreneurship at the City College of New York. It inspires a diverse community of changemakers to develop transformative ventures.
About The City College Fund
The City College Fund is a tax-exempt 501c(3) non-profit fundraising organization, established in 1946 to support The City College of New York in its mission to provide access and excellence in higher education, particularly to students who might not otherwise be able to afford to go to college. Gifts to The City College Fund directly benefit City College's extraordinary students, renowned faculty, innovative programs and schools.
About The City College of New York
Since 1847, The City College of New York has provided low-cost, high-quality education for New Yorkers in a wide variety of disciplines. Today more than 16,000 students pursue undergraduate and graduate degrees in eight professional schools and divisions, driven by significant funded research, creativity and scholarship.  Now celebrating its 170th anniversary, CCNY is as diverse, dynamic and visionary as New York City itself.  View CCNY Media Kit.