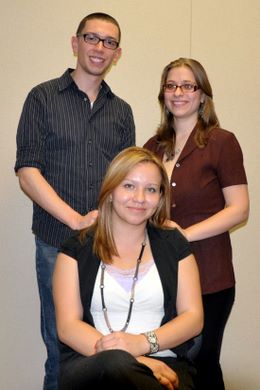 Teacher Academy Seniors Yekaterina Garmash and Michael McDonald and Recent Grad Mallory Villa Receive $100,000 Stipends
City College of New York graduating seniors Yekaterina Garmash and Michael McDonald and recent graduate Mallory Villa have won Math for America Fellowships (MƒA). The highly selective five-year program for talented students committed to teaching math in public schools provides a $100,000 stipend.
Math for America is a nonprofit organization that aims to improve mathematics education in U.S. public secondary schools by recruiting, training and retaining outstanding mathematics teachers. All three students awarded fellowships were in CCNY's Teacher Academy Program, which allows pre-qualified math and science undergraduate students to do clinical fieldwork as early as freshman year.
"To be honest, I wanted it really badly, I never wanted anything more," said Mr. McDonald, who, along with Ms. Garmash will receive a BA in secondary math education June 1. "As excited as I was to win the fellowship, I was even more excited that all three of us made it into the program."
Born and raised in the Bronx, Mr. McDonald originally majored in architecture. He switched to the Teacher Academy Program in spring 2009. The experience allowed him to see that teaching is what he wants to do for the rest of his life. Mr. McDonald, who is also in the City College Honors Program, is president of the Aspiring Teacher Club.
"It was an amazing feeling, I was so excited to win the fellowship," said Ms. Garmash. "I was nervous about the outcome because I knew the standards were high for this program. I was extremely happy and excited when I found out I was accepted."
The Washington Heights resident also entered the Teacher Academy Program in spring 2009. Born in Ukraine and fluent in Russian, Ms. Garmash is the president of the CCNY Salsa-Mambo Club.
"I was extremely excited," said Mrs. Villa, a native of Colombia who graduated from CCNY on June 3rd of last year. "This program helps financially, provides mentors and professional development and it is just an honor to know you're part of it."
Raised in New Rochelle, N.Y., Mrs. Villa was the captain of the CCNY women's soccer team for three years until an injury ended her playing career. She also served as the treasurer of the Student Athlete Advisory Committee.
Besides tuition, in year one of the fellowship, the students will receive $30,000 of their stipend and gain teaching experience. In years two through five, they will teach in a public secondary school in the New York City area, receive mentoring and professional development support and participate in MƒA activities. The $70,000 stipend for that period will be on top of their teaching salary.
All three students will pursue master's degrees in secondary mathematics education with tuition paid in full at CCNY, which this year replaced New York University as MƒA's host school. Last year's winner Jian Liu is now studying at NYU.
MƒA decided to work with CCNY after looking to collaborate with CUNY to establish a partnership with a public university in NYC. They wanted a program specifically designed for MƒA masters students and an opportunity to have a role in developing the program for fellows. CCNY's math and math education faculty and secondary math education program impressed MƒA, prompting them to choose CCNY as the host school.
The City College Teacher Academy Program allows pre-qualified math and science undergraduate students, known as "aspiring teachers," to begin their weekly fieldwork clinical practices in their freshman or sophomore year. Each aspiring teacher is assigned to a collaborating teacher in one of CCNY's host schools: A. Philip Randolph Campus High School, Mott Hall Intermediate School, The City College Academy of the Arts and Thurgood Marshall Academy.
In their final year, aspiring teachers student-teach at middle and high schools as they complete the Clinical Practice component that is required for Initial New York State Certification in grades 7-12. Eight of the 12 students who have completed the program to date are currently teaching full time and the others attend graduate school.
About Math for America
Math for America was founded in New York City in 2004 with a mission to improve mathematics education in U.S. public secondary schools by recruiting, training and retaining outstanding mathematics teachers. The MƒA NY Fellowships were the congressional model for legislation creating the National Science Foundation Teaching and Master Teacher Fellowships through the Robert Noyce Teacher Scholarship Program in the America COMPETES Act.