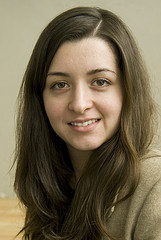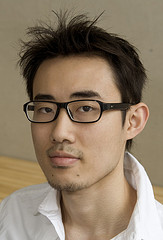 First Student to Receive Full Scholarship to Famed Summer Program in France
Helen Levin, a graduating fifth-year architecture student in theBernard and Anne Spitzer School of Architecture at The City College of New York (CCNY), has been awarded the AIA Fontainebleau Prize.  The prize provides a full scholarship to the summer program for architects at the Fontainebleau Schools held in Chateau Fontainebleau, south of Paris.  A second graduating fifth-year architecture student at CCNY, Shengyi Pu, won a partial scholarship to attend Fontainebleau.
The awards are given by the Center for Architecture Foundation, which is run by the New York chapter of the American Institute of Architects.  This is the first time the Center has awarded a full scholarship to attend the Fontainebleau Schools.
"I'm very excited about going back to France to study at Fontainebleau," said Ms. Levin, who studied French and worked as a nanny in Strasbourg before enrolling at CCNY.  "This will give me the chance to use what I've learned over the last five years to really get a grip on what I've accomplished."
The Fontainebleau Schools were founded in 1921 to expose the best American students to the French tradition in music and architecture.  Since their inception, they have hosted more than 10,000 students at the Chateau de Fontainebleau, a 700 year-old chateau located 40 miles south of Paris. 
Fontainebleau's architecture program brings together different artistic disciplines in order to explore new ways of seeing, thinking and making architecture. For 2010 the program will explore sustainable architecture through a series of workshops, lectures, visits and hands-on projects and performances in collaboration with the musicians.
A Baltimore native who enrolled in CCNY's honors program, Ms. Levin served as editor-in-chief of "Informality," the Spitzer School's student publication, which won the Haskell Prize from the American Institute of Architects in 2009.  In addition, she worked as a research assistant to Professor Marta Gutman, who encouraged her to apply for the Fontainebleau scholarship.
Other awards she has won include the Spitzer School's Megan Lawrence Memorial Award, in 2006, and the school's History and Theory Award and a travel grant from the school in 2010.  In summer 2009, she studied at the Arava Institute for Environmental Studies in Ketura, Israel.
Mr. Pu, a native of Shenzen, China, and graduate of Forest Hills High School, also received the BArch degree this year.  At City College he served as the first editor of "Informality" and as a teaching assistant and wood shop assistant in the Spitzer School.