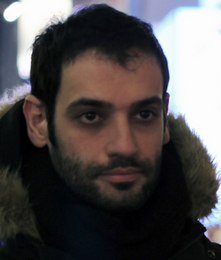 Alex Lora, a Spanish filmmaker and Fulbright Scholar, is the latest CCNY finalist in the annual Student Academy Awards.
A scene from Mr. Lora's short film "Us."
Nomination is Fifth Since 2006 for CCNY Film Students
A five-minute short produced by Spanish filmmaker and Fulbright Scholar Alex Lora for an MFA class exercise is The City College of New York's latest finalist in the annual Student Academy Awards.

Since 2006, five CCNY student filmmakers were finalists in the competition, with three going on to win the silver medal. In addition, recent alumni have received Emmy Awards and won prizes at several festivals. One graduate, Zachary Borst, had a commercial he produced shown during Super Bowl XLVI as first prize in a competition sponsored by Chevrolet.

"Us," Mr. Lora's conceptual short movie about a young couple tormented by their broken relationship, was up against seven other movies in the "Alternative" category, including films by students from New York University, Florida State University and University of Southern California. This year's awards ceremony will take place at 6 p.m. Saturday, June 9 at the Samuel Goldwyn Theater in the Academy's headquarters in Beverly Hills.

"I couldn't believe it when I was told that "Us" was a finalist," said Mr. Lora, who completes his two-year MFA in Media Arts Production program on a Fulbright Scholarship this summer. "It was shot in two days as a class exercise and although I like the concept, all the short films in the region finals were amazing and run 15 to 17 minutes and were produced with enormous backing."

Shot last semester, "Us" runs just 5:30 minutes, or about a third the length of the other finalists that made the cut at the region finals in April. It was produced for a Camera 2 class taught by Associate Professor Herman Lew, director, BFA Film and Video Program, in the Media and Communication Arts (MCA) Department.

A native of Barcelona, Spain, with several film accolades to his name, Mr. Lora continues the tradition of quality work, by faculty and students, emanating from CCNY's film program. The Harlem resident joins the growing ranks of MCA film students that have gained acclaim for their projects.  

Other recent Student Oscar finalists have been: "Rediscovering Pape," by Maria Royo (2010); Jeremy Joffee's "The Bronx Balletomane" (2009); "Tijuana Nada Mas" (2008) by Yolanda Pividal, and Carmen Vidal Balanzat's documentary "6AM" (2006). Ms. Royo, Mr. Joffee and Ms. Balanzat went on to win silver medals in the competition. Ms. Pividal earned a $10,000 award from the Independent Feature Project for her film.

In addition, Octavio Warnock-Graham's documentary "Silences" won an unprecedented three awards at the 2007 student Emmys; Piotr Kajstura placed first at several festivals with "When They Could Fly" (2007), and 2011 BFA graduate Yosuke Hosoi's "Man of the House" was selected for screening in the Short Film Corner at the ongoing Cannes Film Festival in France.  

Mr. Lora, a graduate of Barcelona's Ramon Llull University, where he earned BA and MA degrees in filmmaking and writing and directing for fiction, respectively, lauds the MCA's award-winning faculty for creating a first-class program.

The faculty includes noted independent filmmakers Andrzej Krakowski and Chantal Akerman, National Endowment for the Humanities Fellow Andrea Weiss and Emmy Award winners David Davidson and Jerry Carlson.
 
"The faculty is highly knowledgeable and extremely helpful to students," he said. "They've created an excellent and intimate film program where everyone feels like family."  

Professor Carlson doubles as a senior producer for CUNY-TV, for whom he created and produces the award-winning series "Canape," about French-American cultural relations, and "Nueva York," about the Latino cultures in New York City.

"Canape" this month scooped four Communicator Awards for excellence and distinction.
The Communicator Awards is considered the leading international awards program recognizing big ideas in marketing and communications.

"Nueva York" garnered two New York Emmy Awards this year. Six of the producers working on "Nueva York" are graduates of CCNY's media arts production MFA program.

And a major coup for the CCNY film program this year was the selection of 2010 MFA alumnus Zachary Borst's "Happy Graduate" commercial for broadcast during Super Bowl XLVI in February. Mr. Borst's 30-second spot bested 200 other entries in a competition sponsored by Chevrolet. This year's Super Bowl was the highest-rated program in U.S. television history, watched by 111.3 million people, according to Nielsen.

Mr. Lora, who is wrapping up work on his MFA thesis project, plans a film career in the United States. He has worked internationally as script analyst, editor, cinematographer, writer and director.

"Us" adds to his impressive list of more than 75 awards. Among his honors are: Best Documentary at the Soria International Film Festival (Spain), nomination for Best Short at the IV Gaudi Catalan Academy Awards (Spain) and Best Short Documentary at Metropolitan Film Festival of New York (USA).

Mr. Lora's work has been screened in over 300 festivals -- most notably the official section of Sundance, Berlinale Talent Campus and Cannes' Short Film Corner -- in more than 40 countries.