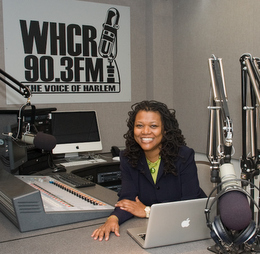 WHCR GM Angela Harden Receives Harlem Hospital Community Health Award, Congressional Recognition for Health Mission
In a neighborhood where health issues are prevalent, Angela Harden, general manager of The City College of New York's community radio station, WHCR 90.3 FM, has made spreading awareness and prevention to Harlem listeners one of her missions. Since 2006, the station has carried a weekly talk show, "Health in Harlem," that offers practical information about medical problems that are prevalent in the community.
In honor of her work, the Harlem Hospital Center's (HHC) Community Advisory Board presented Ms. Harden with its Community Health Service Award at its June meeting. Ms. Harden also received a certificate of special Congressional recognition from Rep. Charles B. Rangel, whose district includes Harlem Hospital and City College.
"By adding programming focusing on health issues, Ms. Harden has created a valuable resource that the community can tap into," said Yvonne Kilpatrick, a member of the HHC Community Advisory Board. "They can get free in-depth medical information and ask doctors questions. She saw the community's need and acted on it."
A 1997 CCNY graduate who has been WHCR's general manager since 2002, Ms. Harden called the award a tribute to the strong ties between CCNY and one of the community's most vital institutions.
"I'm so happy that they've recognized the collaboration between Harlem Hospital and WHCR," the long-time Harlem resident said. "It's a perfect example of community service at its best because you have radio coming together with doctors to offer invaluable health information to people suffering from a lot of ailments."
Under her leadership, WHCR has not only expanded and modernized its facilities, but also expanded programming to include weekly talk shows that address social and health issues in Harlem.  These include "Inside Housing," hosted by Nellie Hester Bailey, co-founder and director of the Harlem Tenants Council (Mondays 6-7p.m.), and "Health in Harlem," co-hosted by CCNY alumnus Maurice Selby and Sean Shivers, director of Food & Nutrition Services at HHC (Thursdays 7-8 p.m.).
On the air since 2006, "Health in Harlem" is underwritten by Harlem Hospital and produced by Naomi Griffin, the hospital's director of special projects and community outreach. The late Gloria Thomas, a City College administrator and board member of Friends of Harlem Hospital, inspired creation of "Health in Harlem" and was its original host.
The program features physicians and other medical professionals discussing ailments such as obesity, diabetes, heart disease and high blood pressure, which are prevalent in the community. "The doctors talk in depth about awareness and prevention of the major ailments in the community in simple language and answer questions from callers," said Ms. Harden.
About Angela Harden
Angela Harden has been associated with WHCR 90.3 FM, City College's community radio station for nearly 20 years. She interned there from 1993 to 1997 while studying broadcast journalism at CCNY.  Ms. Harden graduated summa cum laude and worked with the late Joe Brown, WHCR's general manager, until April 2002 when she succeeded him.
In addition to expanding the station's programming to address social and health issues in the community, Ms. Harden oversaw the expansion of WHCR's studios. The station completed a $1.7 million facelift to boost service to listeners in Upper Manhattan in 2010.
An adjunct professor in CCNY's Media and Communication Arts Department, she utilizes WHCR as a teaching lab to give her radio journalism students hands-on experience. Ms. Harden has also worked in print journalism and served as managing editor for "Unfold" and "Honey" magazines and the online publication "Urban Box Office."
About WHCR 90.3 FM
Since 1986, WHCR has provided educational programming and entertainment to its listeners, while offering radio broadcast training to CCNY students and members of the community. Owned and operated by CCNY, it is licensed by the FCC as a non-commercial community broadcaster and is one of the few low-power FM stations in New York City.