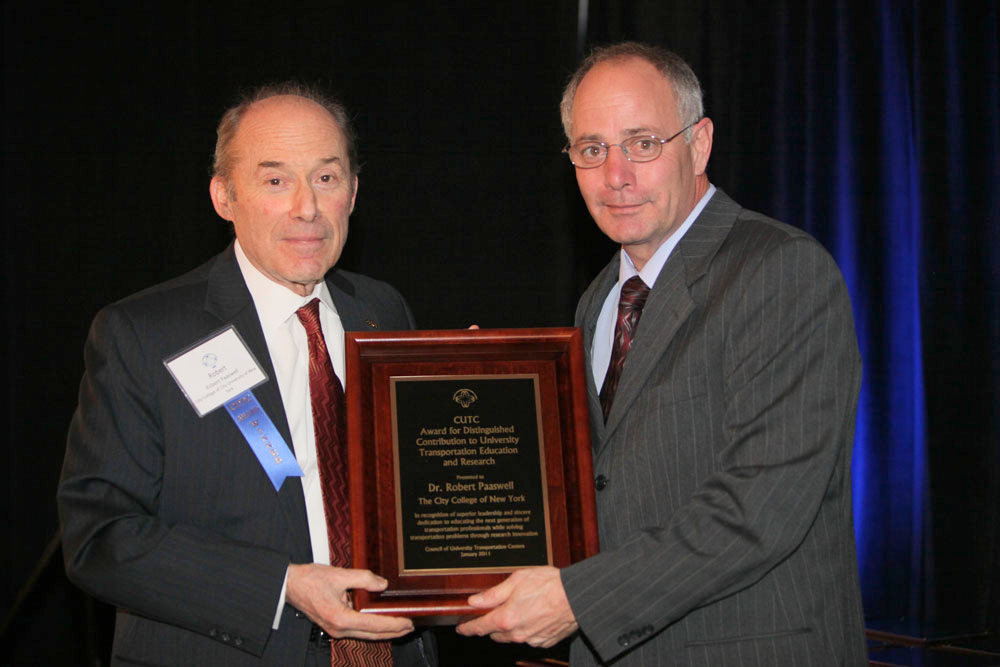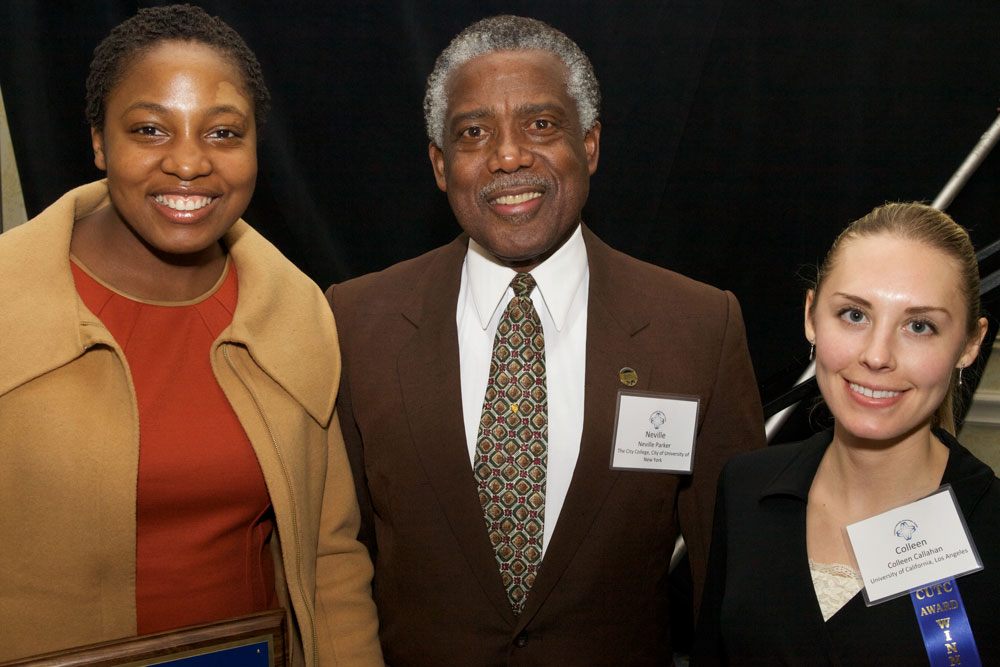 Masters Student Adina Boyce Receives Neville Parker Award
Dr. Robert 'Buz' Paaswell, distinguished professor of civil engineering in the Grove School of Engineering at The City College of New York, and director emeritus of the University Transportation Research Center (UTRC) – Region 2, has been awarded the Council of University Transportation Centers (CUTC) Distinguished Contribution to University Transportation Education and Research Award.  
In addition, CCNY graduate student Adina Boyce received the Neville Parker Award for Outstanding Non-thesis Masters Degree Paper in Science and Technology.
The awards were presented January 22 in Washington at CUTC's 14th annual awards banquet.
The award to Professor Paaswell recognizes his long history of significant and outstanding contributions to university transportation education and research.  He has been involved in transportation operations, management and planning since the late 1960s.
Professor Paaswell, who joined the CCNY engineering faculty in 1990, served as director of UTRC – Region 2 from 1990 until 2009.  That year, he was appointed interim president of CCNY, a position he relinquished in August 2010 when Dr. Lisa Staiano-Coico became the 12th President of The City College of New York.
UTRC – Region 2, which was established in 1987 and is based at CCNY, is a consortium of 12 universities that trains transportation professionals, conducts research and provides support to transportation agencies in New York, New Jersey, Puerto Rico and the U.S. Virgin Islands.  Much of its service region is characterized by a complex, mature transportation infrastructure that is confronted with changing customer demands, economic challenges and an evolving policy environment.
In addition to his leadership role with UTRC, Professor Paaswell has lectured and consulted nationally and internationally on policy and management issues.  He has served as a mediator in a path-breaking labor management productivity issue for New York City Transit and has served on a number of MTA blue ribbon commissions.  Late last year, former Gov. David Paterson appointed him to the New York State High-Speed Rail Planning Board.
Prior to coming to CCNY and UTRC – Region 2, Professor Paaswell spent three years as executive director of the Chicago Transit Authority, the second-largest public transportation system in the United States.  In that position, he initiated strategic planning, program-based budgeting, fare restructuring and other modern initiatives.  The mission statement he developed for that agency still serves as a good example to the transit community.
Professor Paaswell served as director of the Urban Transportation Center at the University of Illinois from 1982 to 1986, working with the state's major transit systems, private providers and other transit providers.  He also initiated a training program for mid-career professionals in mainland China to address surface transportation issues.
While a professor of civil engineering at SUNY Buffalo from 1964 to 1982, Dr. Paaswell organized and directed the Center for Transportation Studies and Research.  The Center was responsible for a number of important studies including a seminal study on the transportation disadvantaged, an economic and impact analysis of the Buffalo light rail system, Port of Buffalo studies and energy demand studies.
Early in his tenure at SUNY Buffalo, he helped write the Model Cities transportation program for that city, which resulted in the initiation and operation of a demand-response service for the community's elderly population in the model city area.  Such service, which, unlike conventional buses do not operate on fixed schedules or routes, are today found in more than 400 U.S. cities and 1,500 rural areas in the United States.
Professor Paaswell earned his PhD from Rutgers University and holds bachelor's master's degrees from Columbia University.
Ms. Boyce, earned the Parker prize for her paper titled "Modeling Traffic Idling Conditions in East Harlem (96th to 145th Street & Lenox Ave to 1st Avenue) and their Impact on Air Quality."  The award is named for Dr. Neville A. Parker, Herbert Kayser Professor of Civil Engineering at CCNY and Director of the CUNY Institute for Transportation Systems.
Currently working toward a PhD at University of California – Davis, Ms. Boyce earned BSE and MSE degrees in civil engineering from the Grove School and participated in the Louis Stokes Alliance for Minority Participation and Bridge to the PhD programs.  Professor Parker, who is a past president of CUTC, was one of her mentors.   
About the Council of University Transportation Centers
The Council of University Transportation Centers was established in 1979 by the major transportation research centers and institutes in the United States.  CUTC provides a forum for the Universities and Centers to interact collectively with government and industry.  CUTC's membership represents over 90 of the nation's leading university-based transportation research and education programs.  Collectively, CUTC members have advanced the state of the art in all modes and disciplines of transportation.  In doing so, the membership of CUTC has made significant and lasting contributions to the nation's mobility, economy, and defense.