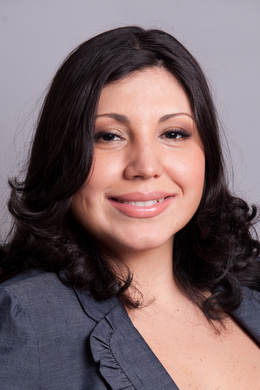 Division of Interdisciplinary Studies' Elena Romero Pens Book, Organizes Events; To Speak on Topic December 2 at Center for Worker Education
Hip-hop, a culture and music genre with roots in New York City's black and Latino communities, has influenced everything from language to politics to dance to fashion.  Not surprisingly, a hip-hop pedagogy is emerging in academia, as evidenced by a hip-hop think tank at New York University and the establishment of hip-hop archives at Harvard and Cornell.
At The City College of New York, Elena Romero, communications coordinator, academic advisor and adjunct lecturer in the Division of Interdisciplinary Studies, has organized hip-hop conferences and a lecture series.  A former trade newspaper editor, she has also written a soon-to-be published book on hip-hop's fashion impact, a topic she will speak on 6 p.m. Friday, December 2, at the Center for Worker Education, 7th Floor, 25 Broadway, in Lower Manhattan.
Hip-hop fits well with The City College of New York's and its Division of Interdisciplinary Studies' respective missions, Ms. Romero says. "We're an urban university and hip-hop, by nature, is interdisciplinary."  In addition, several hip-hop pioneers have connections to CCNY. Russell Simmons and Curtis (Kurtis Blow) Walker were students here. Afrika Bambaataa hosts a weekly program on the College's radio station, WHCR-FM (90.3).
Ms. Romero, a Brooklynite whose parents came to New York from Puerto Rico, considers herself a member of the hip-hop generation. "Being born and raised in New York City, that was the music I listened to; it was the culture I was part of," she says.
As a reporter in the 1990s for two fashion trade journals, "DNR" and "WWD," she would report on hip-hop's growing influence in the apparel industry.  She covered hip-hop's shift from fringe to mainstream as brands like Fubu, Ecko Unlimited and Sean Jean became major players in the department stores.  By 2002, it had become a $58 billion industry, according to NPD Group, a market research firm.
"Having had a good portion of my journalistic work at the forefront of such a nostalgic and monumental era, I knew it would be just a matter of time before sharing the story of how the hip-hop fashion became a multi-billion industry," she says.
Her book, "Free Stylin': How Hip-Hop Changed the Fashion Industry," to be published next spring by Praeger, will be the first to focus solely on hip-hop fashion as well as the first book she has written.  "There have been books on (hip-hop) footwear and jewelry, but not the apparel and its founders," she points out. "The brands now extend from casual sportswear to home furnishings and tailored clothing."
"Free Stylin'" features more than 60 interviews with urban designers, retailers, trend forecasters, music experts and hip-hop celebrities. It explores how hip-hop transitioned from the 'hood to the runway; how race, ethnicity and culture played into commercialism; how celebrities impact the fashion industry, and, ultimately, what led major department stores to jump on the urban bandwagon.
In addition to her book, Ms. Romero organizes the "Is Hip-Hop History?" conference held annually during the spring semester and this fall's new "Reading Hip-Hop" lecture series. Both events are held at the Center for Worker Education.
The conference, which began in 2010, came about as the result of a growing recognition that there was a disconnect between the hip-hop community and hip-hop scholars, she explained.  Each event presents a hip-hop pioneer as well as a prominent academic as keynote speakers.
Pete Rock, a legendary producer and deejay, and Dax-Devlon Ross, author of "The Nightmare and the Dream: Nas, Jay-Z and the History of Conflict in African-American Culture." have been confirmed as keynote speakers for the 2012 conference, to be held February 24 – 25.  Speakers at previous conferences include: Vinnie Brown of Naughty by Nature, a Grammy-winning rap group; veejay Ralph McDaniels from Hot 97; Professor Mark Anthony Neal from Duke University, and journalist and activist Bakari Kitwana.
The "Reading Hip-Hop" lecture series, which concludes with Ms. Romero's lecture and a closing reception on December 2, presents author talks on everything from politics to branding to style to fiction, she notes. "It's another way to expand the focus on hip-hop pedagogy." The Division offers several hip-hop courses including "Reading Hip-Hop" and  "History, Culture and Politics of Hip-Hop," taught by Warren Orange, a historian who also serves as an advisor and financial aid coordinator at CWE.