Joyce Conoly-Simmons, Academic Support and Supplemental Instruction Coordinator for CCNY's SEEK Program received the 2009 Faculty Service Award from the CCNY Alumni Association at the Association's 157th Annual Meeting, Thursday, June 11.  In addition, the Association presented its new Administrative Service Award to Joan Newman, Deputy to the Dean of the School of Education.
Professor Conoly-Simmons, who joined CCNY as a research assistant in 1968, was honored for her more than 40 years of contributions to the academic and social welfare of the College's students.  She has worked with SEEK (Search for Education, Elevation, and Knowledge), the College's Higher Education Opportunity Program, for more than 30 years and has been the program's Instruction Coordinator since 2001.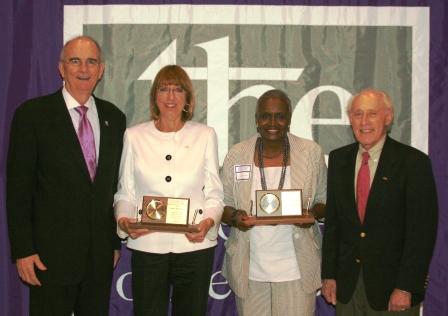 In addition to her work with SEEK, she teaches in CCNY's Women's Studies Program and is campus coordinator for the Role Model Program, a partnership between The New York Coalition of 100 Black Women and CCNY.  The program enables qualified women students to gain first-hand experience in the professional world by working with female role models.  
A Manhattan resident, Professor Conoly-Simmons holds graduate degrees from Columbia University's School of Social Work (M.S.S.W., 1974) and The City College School of Education (M.S. Ed., 2001), and is a member of Alpha Kappa Alpha Sorority, Inc.
Ms. Newman has served as Deputy to the Dean of the School of Education since 2000, where she is respected by faculty and students alike as a "problem-solver supreme."   In addition to her direct responsibilities to the Dean of the school, she serves as Director of the School of Education Study Abroad Program, heads the CCNY Austrian Teacher Program and sits on several committees including the annual Einstein Student Research Conference.
Lauded for her tireless commitment, Ms. Newman has also distinguished herself as a student mentor and community activist.  She serves as a mentor for the New Student Seminar and as co-instructor for freshman writing at CCNY's Center for Worker Education.  
As an activist, the Washington Heights resident is a Board Member of the Harlem and the Heights Historical Society and an enthusiastic supporter of the Washington Heights community.   Ms. Newman graduated from Brooklyn College with a B.A. in English. 
In addition to the awards for Professor Conoly-Simmons and Ms. Newman, Alumni Service Awards for outstanding service to the College and Association were presented to:
Mort Sheinman, '54, Member, Board of Directors of the Communications Alumni, and former member, Alumni Association Board of Directors.
Gerry Gafka, '62, Chair, Greater Houston Alumni Chapter.
Perry L. Schwartz, '62EE, President, Engineering School Alumni Constituent Society, and member, Alumni Association Board.
Robert Rosenblatt, '64, Second Vice President, Washington D.C. Area Alumni Chapter.
Warren Orange, '93, Founder and treasurer, Center for Worker Education Alumni Group.