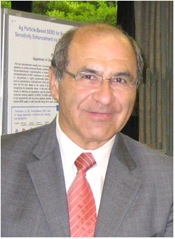 Nanoscience and Nanotechnology Scholar Combines Strengths in Research, Administration and Industry with Commitment to Undergraduate Education
Dr. Martin Moskovits, a scholar, university administrator and business executive who is a recognized leader in nanoscience and nanotechnology, will become the next provost and chief academic officer of The City College of New York, effective August 1.  The CUNY Board of Trustees approved his appointment May 2.
"Martin Moskovits brings to City College an international reputation as a scholar in his fields of nanoscience and nanotechnology, and more than 30 years of experience in teaching and increasingly higher positions in university administration," said Dr. Lisa Staiano-Coico, president of City College, who announced the appointment.  "His success in industry and entrepreneurship and his experience in university/governmental relations are joined with a deep commitment to the liberal arts and undergraduate education, and to the success of all of our students."
Currently, Dr. Moskovits is a professor of physical chemistry at University of California – Santa Barbara, where he has been a faculty member since 2000.  He served as the university's dean of science from 2000 to 2007.
While at UC – Santa Barbara, he was involved with two technology start-up companies.  From 2007 – 2010, he served as chief technology officer of API Nanotronics Corp., a supplier of electronic components to the global defense and communications sectors, and as president of a subsidiary, API Nanofabrication and Research Corp.  
In addition, he cofounded SpectraFluidics, a Santa Barbara nanotechnology company that applies technology patented by Dr. Moskovits to detect trace amounts of airborne chemicals.  He serves as chair of the company's scientific advisory board.
He also was one of 19 co-principal investigators on a U.S. Department of Energy Frontier Research Centers (EFRCs) grant that in 2009 awarded to UC – Santa Barbara $19 million over five years.
Dr. Moskovits began his academic career at University of Toronto, where he earned his BsC in 1965 and PhD in 1971.  He was appointed a lecturer in the chemistry department in 1971 and subsequently appointed: visiting assistant professor, in 1972; assistant professor, in 1974; associate professor, in 1978, and professor, in 1982.  From 1993 to 1999 he served as chair of the chemistry department.
His research interests include: nanoscience and technology, plasmonics, chemical and biological sensors, surface-enhanced Raman, nanowire devices, optical and electrical properties of nanosystems and energy conversion.  He is a listed author on 276 publications and has presented 1999 invited lectures on science or science policy in 18 countries in North America, Europe and Asia.
Among his many honors and awards are: a Guggenheim Fellowship in 1986, election as a Fellow of the American Association for the Advancement of Science and of the Royal Society of Canada in 1995 and, most recently, the Optical Society of America Ellis R. Lippincott Award in 2010.
On the Internet:
Dr. Moskovits' UC - Santa Barbara profile
http://www.chem.ucsb.edu/people/faculty/moskovits/
API Nanotronics
http://www.apinanotronics.com/
SpectraFluidics
http://www.spectrafluidics.com/