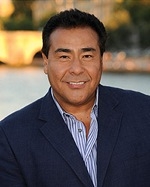 "Primetime" Anchor John Quiñones to Deliver Keynote Address
More than 500 participants are expected to attend a daylong conference at The City College of New York that will explore the myriad diverse issues related to immigration and education in New York City and the United States Saturday, March 19. 
John Quiñones, the Emmy Award-winning co-anchor of ABC's "Primetime," will be the keynote speaker at the "CCNY Immigration & Education" conference, which runs from 8:30 a.m. to 4:30 p.m. in the Great Hall of Shepard Hall, 160 Convent Avenue, New York, and is hosted by CCNY's School of Education. Fatima Shama, New York City commissioner of immigrant affairs, will offer opening remarks. 
The conference is the brainchild of two School of Education faculty members, Assistant Professor Tatyana Kleyn and Lecturer Jesus Fraga, who serve as co-chairs. Both are experts in bilingual education and Teaching English to Speakers of other Languages (TESOL).
Professor Kleyn said the idea for the conference stemmed from the re-emergence of immigration as a debated topic across the country. "Failure to pass the DREAM Act leaves the paths of millions of undocumented immigrants who call the United States their home in the balance," she said. "As these ideological and political battles wage on, the urgency of the education of our immigrant students cannot wait.
"There is no better place to look carefully at immigration, in its broadest sense, than here in the city referred to as "The Crossroads of the World," and especially at The City College, an institution that has been educating immigrant students for over 160 years." 
The conference will explore the theme of "Envisioning Schools, Communities and Policies of Acceptance," Mr. Fraga added. Participants will address areas such as the rights of undocumented students, the views of high school immigrants in urban and suburban settings, immigrant youth action groups, the experiences of resettled refugee youth, family faith traditions and how they shape outcomes and art as a lens on the immigrant experience.  
The event will conclude with a poetry slam entitled "Voices of the Journey: A Spoken Word Celebration of the Immigrant Experience." Participants in the poetry slam will be community poets ranging in ages, regions of origin, status and languages.