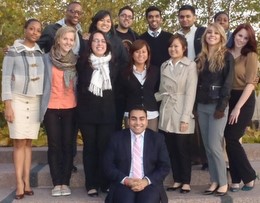 Grassroots Diplomacy Proposal Urges Globalized Education
A paper written by a team of City College of New York public policy students was picked Best Policy of the Year in a nationwide competition sponsored by the Roosevelt Institute. The paper, "Engaging in Grassroots Diplomacy through Globalized Education," urges the U. S. Department of State to engage in grassroots diplomacy by supporting interactive international programs in institutions of higher learning.
The students will present their paper at the Roosevelt Summer Policy Expo in Washington, D.C., this June. "This will put The City College on the public policy map," said Mohammed A. Alam, co-founder and president of the Roosevelt Institute's CCNY chapter, which was formed in the fall of 2010.
The Roosevelt Institute is a nonprofit organization devoted to developing progressive ideas and bold leadership for America.  It sponsors student chapters on 86 campuses across the United States and publishes an annual "10 Ideas Series" comprising select papers such as "Engaging in Grassroots Diplomacy," by students in its campus network.
The idea behind the Series is to encourage students to research problems and issues in their community or around the world and write a policy proposal on how to address that problem.
The CCNY paper argues that promoting grassroots diplomacy through education could help break social and cultural barriers as well as improve quality of American civil society by forging it with civil societies abroad. "In this way it would act as a preventive measure for American conflict. Globalized education can help foster greater understanding, cultural familiarity and help the global students to, essentially, become the first diplomats a country deploys."
Tahsin Chowdury was the lead writer of the paper, with input and research provided by Ashish Mathew, Mohammad Shami, Carolina Martinez and Karim Eissawi.
Three additional papers written by CCNY student chapter members will be published, as well:
"Pass on the Knowledge: Reforming Work-Study," 10 Ideas Education -- by Angela Choi (lead writer), Maryam Aleem, Oronde Tennant, Yah-Hana Jenkins and Silva Durango.
 
"Small Business Empowerment through University Partnership," 10 Ideas Economic 
 Development -- by Mohammed Hoque.
"E-Waste Management: Raising Awareness through a More Inclusive Approach,"    
10 Ideas Energy & Environment -- by Tehmina Brohi (lead writer) and Azikiwe Calhoun.
According to the Roosevelt Institute, the papers selected for publication reflect some of the best policy thinking among students of the millennial generation.  


In all, 12 students, among them graduates from CCNY's Public Service Management Program and undergraduate scholars in the Public Management Fellows Program, helped draft the four outstanding papers. "We are overwhelmed with pride," said Mark Musell, director of public management programs at CCNY.

The Roosevelt Institute Chapter at City College functions as a student policy organization. It has  26 members and its mission is to engage members in progressive activism that empowers them as leaders and promotes their ideas for change.