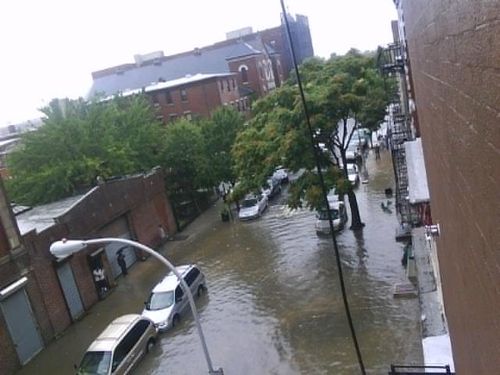 A joint proposal from The City College of New York's interdisciplinary Sustainability in the Urban Environment master's program and two other organizations was one of 15 projects funded in the New York Department of Environmental Protection's 2011 Green Infrastructure Grant Program.  The team, which also includes New York Restoration Project, as lead partner, and Stantec Consulting, received $244,920.
"We're proud to have been asked to partner on this project with leading environmental restoration organizations like New York Restoration Project and Stantec," said Dr. Latif M. Jiji, Herbert Kayser Professor in CCNY's Grove School of Engineering, director of the sustainability program and principal investigator on the grant for CCNY.  "This is an important recognition that we have an effective approach to training sustainability professionals for the 21st century."
CCNY's share of the grant will be used to oversee a monitoring program that is part of the project.  A team of graduate students in the sustainability program will work on this project to fulfill their requirements for the capstone interdisciplinary project, which is a yearlong, six-credit course required of all majors.
The capstone project is a distinctive component of CCNY's sustainability master's program, which commenced in 2009 and requires students to take classes in science, engineering and architecture.  "It's rare for a graduate program in sustainability to require a multidisciplinary capstone project," added Professor Jiji.
"This new grant enables us to build upon a previous grant and continue to take the program in the direction we want to move it in, namely having students participate in practical, interdisciplinary sustainability projects that have a direct connection with green infrastructure," he said.
The Green Infrastructure Grant Program provides funding for green infrastructure projects that will reduce combined sewer overflows and improve water quality in New York Harbor.  During heavy storms, the sewer system often reaches overcapacity and must discharge a mix of storm water and wastewater, i.e. combined sewer overflow, into waterways surrounding the city.
The New York Restoration Project/Stantec/CCNY project is located in the Carroll Street Community Garden in the Park Slope section of Brooklyn.  New York Restoration Project will install a right-of-way bioswale that will divert storm water flow from the street into a rain garden that will feature native plants and trees.  The project will manage approximately 130,000 gallons of storm water per year and reduce combined sewer overflow into the Gowanus Canal.
"One cost-effective approach to reducing combined sewer overflow in New York City is to prevent storm water from entering the system," said George Smith, an administrator in the sustainability program who is co-principal investigator on the grant.
A small education station will be built on the site, as well.  It will function as a remote weather monitoring station and outdoor classroom hub.  Several schools in the vicinity will be able to use the classroom to learn about green infrastructure and restoring the environment, he noted.
New York Restoration Project (NYRP) is a non-profit organization dedicated to reclaiming and restoring New York City parks, community gardens and open space.  Since the organization's founding by Bette Midler in 1995, NYRP has achieved dramatic results by investing in the greening and beautification of underserved communities throughout New York City and educating thousands of residents about environmental issues.  In partnership with the City of New York, NYRP is also leading MillionTreesNYC.  For more information, visitwww.nyrp.org.
Stantec Consulting is a publicly traded planning, engineering, architecture and project management firm with more than 10,000 employees in 150 North American offices.
CCNY's Sustainability in the Urban Environment graduate program leads to the degree of Master of Science in Sustainability.  This innovative, interdisciplinary program draws upon emerging approaches in the disciplines of architecture, engineering and science, and prepares students to adapt old, and advance new generations of buildings, open spaces and urban infrastructure: water and energy resources, air quality, waste management and transportation systems.
On the Internet:
Sustainability in the Urban Environment
/prospective/sustainability
New York Restoration Project
http://www.nyrp.org
Stantec Consulting
http://www.stantec.com