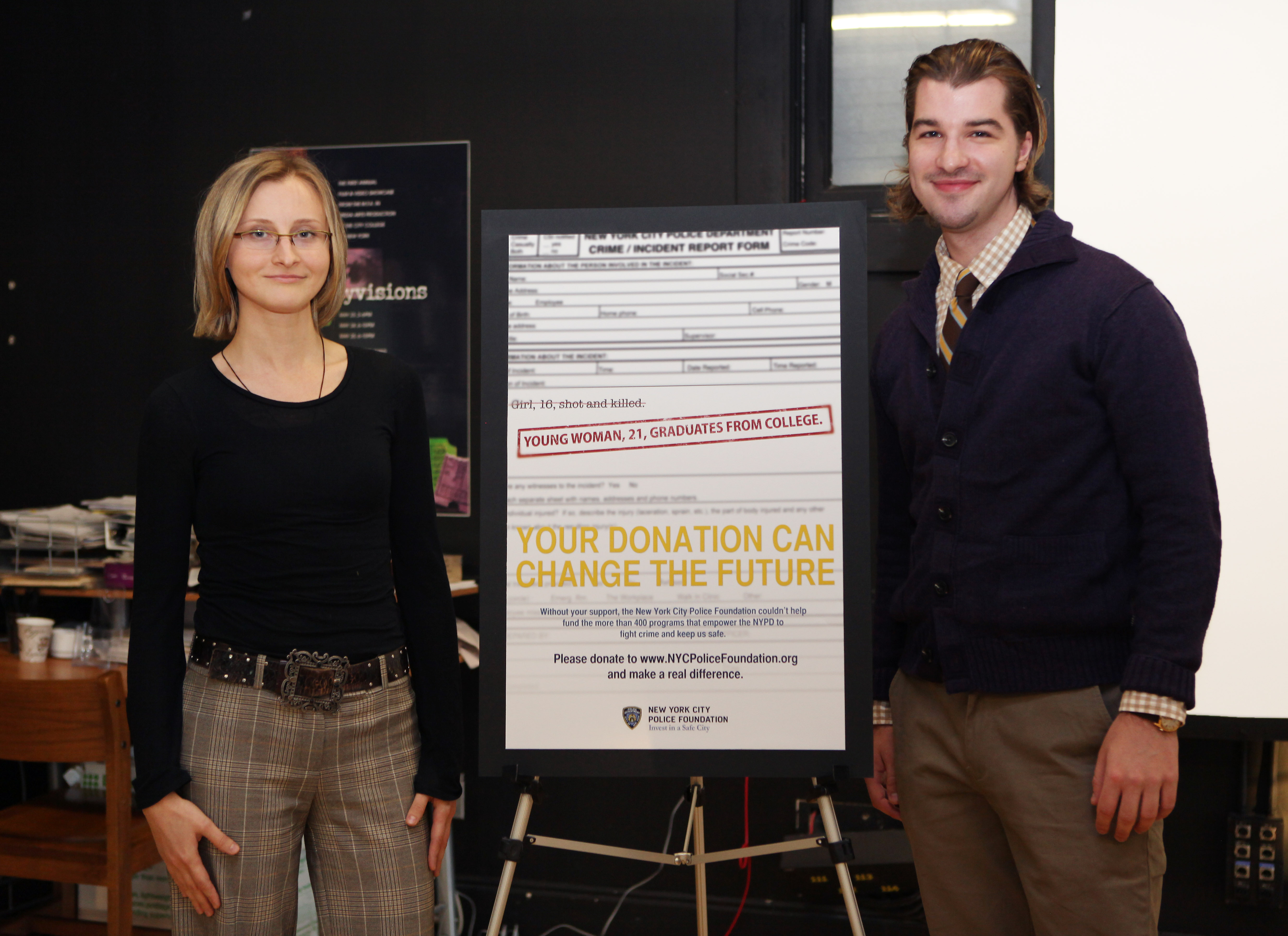 In a collaborative effort, The City College of New York'sadvertising/public relations program (AD/PR) in the media and communication arts department and the art department'selectronic design and multimedia program (EDM) swept the New York City Police Foundation's 2010 advertising competition.  They took the top three prizes in the print category, besting teams from Pratt Institute and Parsons The New School for Design.
 
"We're extremely proud of this achievement, especially since it offered a unique opportunity for our two programs to collaborate in a cross-disciplinary way," said Professor Nancy R. Tag, deputy chair of the media and communication arts department. "Not only is this a spectacular win for our students, but it puts a deserving spotlight on City College.  It was an honor to compete with some of the best design schools in the country – and even nicer to win."
The awards were presented in a ceremony at CCNY October 21.  The first place prize of $2,000 was split between Kyle Witmer (copywriter) and Marta Fronc-Villar (art director) for their "Change the Future" print campaign.  The second place prize of $1,000 was divided among Professor Tag's copywriting class and Kenny Chen (art director) for their "You Don't Need a Badge" print campaign.  Kenny Chen won the third place prize of $500.  CCNY students also won Honorable Mention in the Motion Graphics category.
The idea for the cross-disciplinary collaboration came from Professor Ina Saltz, chair of the art department, soon after being invited to participate in the competition. Coordinating with Professor Tag, the process began in the Advertising Copywriting class, where Ad/PR students would first generate strategies and "rough tissue" concepts.  Professor Tag evaluated more than 60 ad ideas before presenting the top seven to Professor Anne Fink-Bartoc's graphic design class. From there, the EDM students decided which print campaigns to develop into polished ads.
"During the entire process, from concept development to finished advertisements, they displayed focus, creativity and diligence that was truly inspiring," Professor Fink-Bartoc said.  "Art directing these students was a total joy.  I am so proud of the students from the EDM and AD/PR programs at CCNY."
"The Police Foundation's goal is to let New Yorkers know that they can invest in a safe city by supporting the NYPD," said Gregg Roberts, executive director of the New York City Police Foundation.  "We wanted to work with the students in NYC to help promote this message.  The experience of working with these students was more productive than we could have imagined."
Among the judges for this year's competition were executives from Rubenstein Public Relations, Newspaper National Network LP and the New York Police Department.