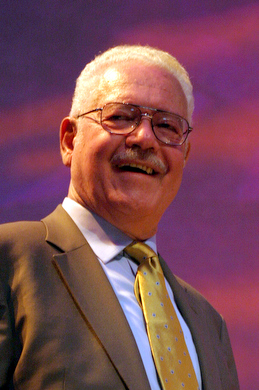 Proceeds to Benefit New Ray Santos Scholarship Fund for City College Music Students
An all-star tribute and benefit concert honoring Ray Santos, a living legend of the Mambo era and long-time leader of The City College of New York's Latin Band, will be presented 7 p.m. Monday, May 21 in the Marian Anderson Theatre of Aaron Davis Hall on the CCNY campus. Proceeds from ticket sales will be used to support the newly formed Ray Santos Scholarship Fund to benefit City College music students.
Among the performers scheduled to appear are Latin music greats: Candido Camero, Xiomara Laugart, Lalo Rodriguez and Arturo O'Farrill, a former student of Mr. Santos, who will lead his Afro Latin Jazz Orchestra and other performers with a selection of musical offerings highlighting Mr. Santos' timeless arrangements.
"I am simply delighted to participate in such a key role in honor of my alma mater's new scholarship, and to celebrate my former teacher and mentor, Ray Santos," said Mr. O'Farrill. "The fete promises to be a classic, and not-to-be-missed New York City event."
Known as "El Maestro" of the mambo sound, Mr. Santos' career as a performer, composer and arranger of Latin music dates to the early 1950s. He has collaborated with and developed original arrangements for such music giants as Tito Puente, Tito Rodriguez, Mario Bauza and Machito, Eddie Palmieri, Paquito D'Rivera, and Wynton Marsalis, among others.
Mr. O'Farrill credits him for creating the big Mambo-era Palladium sound. Tito Rodriguez, Jr., and Mario Grillo (Machito's son) agree that Mr. Santos' hallmark is an unforgettable sound: beautifully orchestrated work, rich in instrumentation and deftly interwoven. Cherished globally by bandleaders and aficionados alike, his contributions were groundbreaking then, and remain equally vital now.
A native New Yorker and graduate of The Juilliard School who lives in the Bronx, Mr. Santos is one of the leading authorities of Afro-Caribbean music. He has taught at City College for more than 25 years and has made an indelible mark on generations of students.  
CCNY music department chair Stephen Jablonsky says Mr. Santos brings "the salsa seasoning to our departmental course offerings. He has been leading our Latin Band for years and brings a lifetime of Latin experience to bear on our performance majors."
"City College students are so incredibly fortunate to be learning and working with such an iconic Latin music legend," adds CCNY President Lisa S. Coico.
In 2011, Mr. Santos received The Latin Recording Academy's (Latin GRAMMY®) 2011 Trustees Award, which is presented to individuals who have made significant contributions, other than performance, to the field of recording during their careers. In 2003, he was inducted into the International Latin Music Hall of Fame. Mr. Santos' other awards include the Chico O'Farrill Lifetime Achievement Award and the Bobby Capo Lifetime Achievement Award.  
Tickets for the concert are: $50, Performance Orchestra, and $35, Performance Mezzanine and Balcony. Special $125 tickets are also available and include a post-performance reception with the artists. Aaron Davis Hall is located on The City College campus at West 135th Street and Convent Avenue in Manhattan.
Additional information about the event, including show times and ticket information, is available at the Aaron Davis Hall website, www.adhatccny.org, or by calling the box office at (212) 650-6900.
To schedule an interview with Mr. Santos or the other performers, contact Neyda Martinez at (718) 399-6369 or (917) 656-7846 or via email at neyda.martinez@gmail.com.
Photos and additional biographical information can be downloaded from: www.maestroraysantos.com.