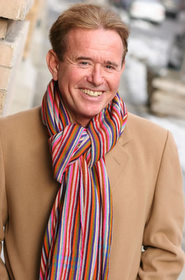 David Del Tredici, one of America's most honored living composers and a distinguished professor of music at The City College of New York, will be saluted by the Guggenheim Museum with two nights of performances of his compositions, March 27 and 28.  "Celebrating David Del Tredici – With New Choreography by Lynne Taylor-Corbett" begins at 7:30 p.m. both nights in the Guggenheim's Peter B. Lewis Theater, 1071 Fifth Ave., New York.  
A highlight of the programs will be the premiere of choreographer Taylor-Corbett's new work set to Professor Del Tredici's "Grosse Tarantella."  In addition, The Young People's Chorus of New York City, directed by Francisco J. Núñez, will sing Professor Del Tredici's "Four Heartfelt Anthems."  Professor Del Tredici and Ms. Taylor-Corbett are scheduled to participate in moderated discussions each night.
Mary Cronson, founder of Works & Process, the performing arts series at the Guggenheim, said the museum was proud to honor Professor De Tredici.  "We honor modern composers and he's one of them," said Ms. Cronson, who is also an event producer with the series.   
Generally recognized as the father of the neo-romantic movement in music, much of Professor Del Tredici's early work consisted of elaborate lyrics inspired by the writings James Joyce and Lewis Carroll.  More recently, he has set to music a cavalcade of American poets including Allen Ginsberg and Paul Monette.
Over the past several years he has ventured into the more intimate realm of chamber music with "String Quartet No. 1," "Grand Trio" and several compositions for piano that hearken back to his childhood as a piano prodigy.
Professor Del Tredici's numerous awards include the Pulitzer Prize in 1980, Guggenheim and Woodrow Wilson fellowships, the Brandeis and Friedheim awards, NEA grants, and no fewer than 23 ASCAP awards.  He is a member of the American Academy of Arts and Letters and sits on the boards of directors of Yaddo, the MacDowell Colony and the Aaron Copland Fund for Music.
Tickets each night are $30 (general public), $25 (museum members) and $10 for students under age 25 with valid ID. Call the Guggenheim box office, (212) 423-3587 for more information.