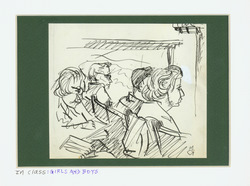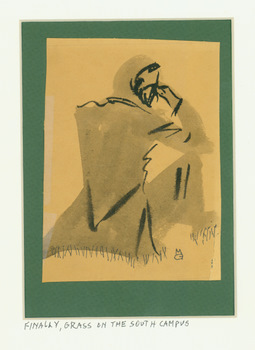 Works of Marvin Gettleman, '57, on Display in Cohen Library Gallery Through October 28
A new exhibit in the Morris Raphael Cohen Library Archives Gallery featuring sketches by City College alumnus Marvin Gettleman, '57, offers a view of City College in a bygone era. "CCNY - An Era Sketched in Time: The Drawings of Marvin Gettleman, Class of 1957" runs through October 28.  The Gallery is located in CCNY's North Academic Center (NAC), 160 Convent Ave., Manhattan.
The exhibit presents 31 drawings depicting fellow classmates and professors from Mr. Gettleman's student days at City College. These drawings bring a new perspective on life at the College during this era.  Noted faculty, such as Professor of Philosophy K.D. Irani and Professor of History J. Alexis Fenton, become dynamic inspirations of intellectual effort in these images.  The portrayals of students focused on their studies, events of the era or relaxing on the South Campus lawns demonstrate engagement in their community and academic life.
Some of Mr. Gettleman's off-campus drawings from his student days as well as later works are included in the exhibit, as well. Other locations he depicted while a student include the Rockaway beaches, where he worked as a lifeguard, and New York-area waterways.  His more recent work includes portraits and studio model studies.  
These additional works illustrate various stages in his development as an artist, a talent that was nurtured at Tyler Art School of Temple University and, more recently, at The Art Students League of New York.  Twelve of the items on display are available for purchase from the artist.     
By profession, Mr. Gettleman was a historian who taught briefly at City College and later at Brooklyn Polytechnic Institution (now Polytechnic Institute of New York University).   Copies of six of the 13 books he authored or contributed from the City College Libraries collection are on display. "Still Life Antipodes," a short film by the Swedish artist Sophie Tottie of an interview with Mr. Gettleman is part of the exhibit, as well.  
For more information about the exhibit, please call the Cohen Library at (212) 650-7271.