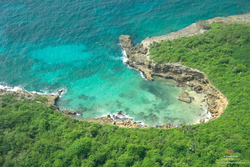 Editor's note: On account of Hurricane Irene, the exhibit opening has been delayed until September 13.  The opening reception will now be held at 6:30 p.m. Tuesday, September 13.
Now you can see the Dominican Republic from the sky without boarding an airplane.  Just visit "New Perspectives: Dominican Republic," a new exhibit of 56 aerial photographs, August 30 through October 31 at the Amsterdam Plaza on the City College of New York campus.
The traveling exhibit is presented by the Global Foundation for Democracy and Development (GFDD) and Fundación Global Democracia y Desarrollo (FUNGLODE), its sister organization in the Dominican Republic, in collaboration with the CUNY Dominican Studies Institute and City College Libraries. An opening reception will be held 6:30 p.m. Tuesday, August 30, 2011.
Since it opened in 2008, the traveling exhibit has moved and delighted tens of thousands in the Dominican Republic, United States and Spain, and has given viewers the opportunity to learn more about the Dominican Republic and what it has to offer.  It was inspired by the eponymous book, which features an array of original aerial photographs of landscapes, people and situations that go far beyond the typical images associated with the country.  It captures the country's diversity and beauty, as well.
"There is a real need to share this experience with the large Dominican community of New York City and other people interested in learning about Dominicans," said Natasha Despotovic, editor-in-chief with GFDD and FUNGLODE, which created and is promoting the book.  "The City College offers an ideal location for this purpose.'
This partnership among GFDD, FUNGLODE and The City College will provide an invaluable opportunity to gather students and community residents around this unique educational experience designed to broaden their vision, perception and understanding of a country that presents an infinite array of landscapes and evokes the same amount of emotions, while contributing to strengthen a healthy national pride amongst Dominican New Yorkers.
GFDD and FUNGLODE, are nonprofit organizations registered in the U.S. and the Dominican Republic, respectively, with the purpose of contributing to the social, economic and democratic development of the Dominican Republic.  Both organizations were created, and are inspired by the vision of President Leonel Fernández, who also serves as honorary president of each institution.
On the day of the opening reception the exhibit book, "New Perspectives: Dominican Republic" will be offered at a discount price. Posters and postcards of the exhibit will also be made available for purchase.  The Amsterdam Plaza is located along Amsterdam Avenue between West 136th Street and West 138th Street in Manhattan.
For more information email photoexhibition@newperspectivesdominicanrepublic.com or visit
http://www.newperspectivesdominicanrepublic.com or http://new-perspectives-dominican-republic.eventbrite.com
On the Internet:
Global Foundation for Democracy and Development
http://www.globalfoundationdd.org/gfdd/
Fundación Global Democracia y Desarrollo
http://www.funglode.org
CUNY Dominican Studies Institute
/ci/dsi/