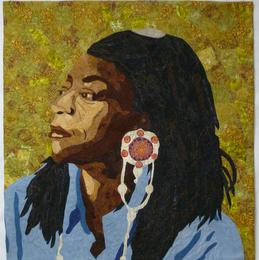 Faith Ringgold, renowned artist, author and quilt maker to be honored by CCNY.
Artist, CCNY Alumna to be Honored October 6 with Ceremony, Quilt Exhibit

Faith Ringgold, the renowned artist, author and quilt maker has been selected to receive The City College of New York's First Annual Cultural Arts Award. An alumna of City College, she will be honored at a ceremony Thursday, October 6, at CCNY's Aaron Davis Hall Center for the Performing and Visual Arts.
 
Ms. Ringgold is the first recipient of the award, which recognizes those who have made substantial contributions to the world through the cultural arts including visual, literary, music, performance and community.  It has been introduced by City College President Dr. Lisa S. Coico to strengthen the bonds between the institution and the community at large through the arts. Ms. Ringgold is a Harlem native. 

"The City College is immensely proud to be honoring one of its own, an internationally acclaimed artist, writer and activist who has touched many around the world," said President  Coico. "Faith Ringgold is a uniquely talented woman in whom her Alma Mater continues to rejoice."

The ceremony honoring Ms. Ringgold, at which she will receive a bronze sculpture specially designed for her by master sculptor Otto Neals, takes place at 6: 30 p.m. in Aaron Davis Hall's Marian Anderson Theater. It will be preceded by a reception at 5 p.m. for the opening of a commemorative quilt exhibition "In Honor of Faith Ringgold," in the Aaron Davis Hall Gallery. Both events are free and open to the public.

The quilt exhibition, which runs through December 1, features quilters from across North America. It is curated by Dr. Myrah Brown Green, a master quilter who is also executive director of art and culture at CCNY, who described Ms. Ringgold as an artist of uncommon ability and an inspiration to generations of artists.  "She has excelled in the various art forms that she's pursued, earning recognition worldwide. It is our privilege here at The City College to celebrate her life and accomplishments."
 
About Faith Ringgold
Also highly acclaimed as an author and activist, Faith Ringgold began her artistic career more than 35 years ago as a painter. Today she is best known for her painted story quilts, which combine painting, quilted fabric and storytelling.

Ms. Ringgold has exhibited in major museums in the United States, Europe, South America, Asia, Africa and the Middle East. Her works are in the permanent collections of many museums, including the Studio Museum in Harlem, the Solomon R. Guggenheim Museum, the Metropolitan Museum of Art and The Museum of Modern Art.

Her first book, "Tar Beach" was a Caldecott Honor Book and winner of the Coretta Scott King Award for Illustration, among numerous other honors. In all, she has written and illustrated 11 children's books. She has received more than 75 awards, fellowships, citations and honors, including the Solomon R. Guggenheim Fellowship for painting, two National Endowment for the Arts awards and 17 honorary doctorates, including an honorary doctor of fine arts degree from CCNY in 1991.

After graduating from CCNY in 1955 with a BS in fine art and education, she taught in New York City public schools from 1955 to 1973.  She earned an MA in art from CCNY in 1959. For more information on Ms. Ringgold, visit:
http://www.faithringgold.com/ringgold/bio.htm .

For more information on the awards ceremony and quilt exhibition honoring Faith Ringgold, call Dr. Myrah Brown Green at (212) 650-5361.
 
MEDIA CONTACT