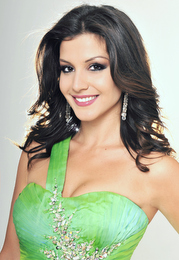 Floriana Garo, Class of 2011, is Miss World Contestant
There is Colin Powell, statesman and author. There is also Jonas Salk, creator of the polio vaccine, and Andrew Grove whose Intel chip revolutionized computers. The list of notable City College of New York alumni is lengthy.
Now add Floriana "Lola" Garo to the roll. A year after graduating from CCNY with a BS degree in International/Global Studies, the 5-foot-11 beauty queen who began her modeling career at City was chosen Miss Albania 2012. She will compete August 18 in the Miss World beauty pageant in China.
But that's not all.  
Segueing into television, Floriana is also a host and presenter for a national network in Albania. She calls it her dream job and even though in graduate school in Tirana, studying international relations, plans on staying in television.
"I want to host and produce my own show eventually," the 25-year-old added. "Currently, I also continue to model as the official face/image of the international clothing brand Cortefiel for Albania. In addition to TV and modeling, I plan to finish my master's and a few years down the line, I would not mind adding the title "Ambassador" to my resume."
Floriana credits her transformational experience at The City College, where as a scholar-athlete and brilliant volleyball player she left a formidable legacy, for her success.
 "CCNY and the volleyball program there shaped my personality," the former Harlem resident, who lived a stone's throw from the College at 133rd Street and Convent Avenue, said from Tirana. "They helped me grow and become responsible, as well as taught me to work hard and dedicate all my energies to a project in order to achieve results."
Her results at CCNY were impressive. In the classroom she consistently maintained a GPA way above the minimum 3.20 required for scholar-athlete status. On the volleyball court, Floriana was an outside hitter of phenomenal ability, and was twice named City University of New York Athletic Conference (CUNYAC) Player of the Year (2007, 2009).
She led CCNY to the CUNYAC title in 2009, capping a glorious season with Most Outstanding Player and CUNYAC Tournament MVP honors in addition to that second Player of the Year nod.  
"She amassed numerous accolades, solidifying her as one of the best female volleyball players in CUNY history," recalled her former CCNY coach Krishna Dass. "I thoroughly enjoyed coaching her; she brought a repertoire of skills that have amazed the crowds and scared our opponents."
"Lola was an exceptional student-athlete whose contributions to the women's volleyball team definitely left a mark on the City College of New York," said Jackee Meadow, director of athletics.
And vice versa, from Floriana's perspective. Famously renowned for its diversity, the mark left by CCNY on the multitalented beauty queen is indelible.  
"It put me in touch with new people, new cultures, new ideas, and helped me develop an open mind and remain true to myself. All I have learned from these experiences, I have taken and applied to my life in Albania and they have proven to be successful," she said.  
And CCNY is where her modeling career started after she was introduced in her freshman year to renowned Albanian photographer Fadil Berisha. He took the first photos for her portfolio.
She modeled part time, did showroom modeling, bridal shows and some catalog work. But until this year when she won the Miss. Albania contest, had never entered a beauty pageant before.
"Being chosen as the Albanian representative (Miss Albania) for Miss World is a huge honor and I am certain my experience there will undoubtedly impact my future career," said Floriana.