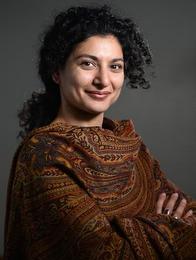 Fulbright Scholar Kayhan Irani, a 2008 CCNY alumnus, will study early Parsi communities and embroidery in India.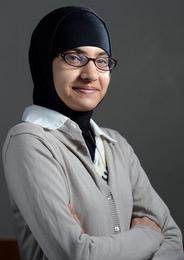 Humaira Hansrod, a 2012 graduate from the Macaulay Honors College at CCNY, is headed to Oman to study women's economic rights.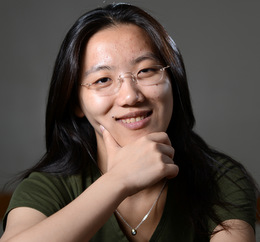 PhD candidate Susan M. Tsang will spend the next two semesters in Indonesia studying the genetic diversity of flying foxes.
Kayhan Irani, a 2008 City College of New York graduate, Humaira Hansrod, a 2012 graduate from the Macaulay Honors College at City College and PhD candidate Susan M. Tsang have been awarded 2012-2013 Fulbright Scholarships for study and research abroad.

Ms. Irani, a New York Emmy Award-winning screenwriter with a BA in Theatre and Social Change from the CUNY Baccalaureate program, will travel to India this fall. She will spend seven months in Mumbai (formerly Bombay) and New Delhi researching early Parsi communities and embroidery for a play titled "Paisley" that she is writing.

"For the entire week after I received the notice I was overjoyed," said Ms. Irani. "I felt like I was walking on air."

That is because the scholarship will take her back to Mumbai, where she was born to Indian and Iranian parents, to learn a part of her heritage.  

In addition to screenwriting, the Jackson Heights, Queens, resident is a performer and community arts practitioner who was honored in 2007 by Mayor Michael Bloomberg for her work in immigrant communities. She received the Emmy for best writing for a television program (2010) for her work as a screenwriter on the show "We Are New York" produced by CUNY and the Mayor's Office of Adult Education.  

A senior trainer at the Theater of the Oppressed Laboratory in Manhattan, Ms. Irani has directed participatory arts projects both locally and overseas, including theater for change projects in conflict zones such as Afghanistan and Iraq. Theater of the Oppressed is the concept of participatory theater as means of promoting social and political change.
 
Ms. Tsang, who is on track to complete a doctorate in ecology and evolutionary biology in 2014, will spend the next two semesters in Indonesia studying the genetic diversity of flying foxes, a group of large fruit bats, with the goal of helping develop a conservation plan for the endangered creature.

Her research at the University of Indonesia's Center for Biodiversity Strategies in Jakarta will be related to her thesis on the evolution and population structure of the mammals. This research will also help expand the body of knowledge on viruses that originate from bats.

 "I feel fortunate in that this is an opportunity to nurture relationships with research colleagues in Indonesia and study an increasingly rare and endangered species in its natural habitat," said Ms. Tsang. She noted that at least 20 of 61 recognized species of flying fox are present in Indonesia.

Born in Hong Kong and raised in Queens from age five, Ms. Tsang is one of the few foreign experts authorized by the Indonesian government to conduct research on flying foxes in that country.

She spent last summer in Singapore on a National Science Foundation East Asia Pacific Summer Institute Graduate Fellowship to familiarize herself with the bats and develop genetic tools to work with them. She also did research related to her doctoral thesis in the Department of Biological Sciences at the National University of Singapore.

Ms. Hansrod, who graduated with dual majors in economics and political science, is headed to Oman to pursue research related to her thesis on women's economic rights. For the Mauritian immigrant, the Fulbright scholarship could not be timelier. It gives her the opportunity to continue work on a topic that she's deeply passionate about.

"I applied for it because I really wanted to continue research in my thesis in the region it focuses on," said Ms. Hansrod, now an East Elmhurst, Queens, resident. Her honors thesis argued that women's work is necessary for national economic development in the Middle East.

The well-traveled 22-year-old will be returning to a region and culture that she is quite familiar with, having visited Jordan in 2010, Morocco in 2011 and Egypt in 2012 on study abroad programs. During those trips, she perfected her Arabic, which she learned at CCNY. She also speaks French, Urdu and Mauritian Creole.

After completing her Fulbright, Ms. Hansrod plans to seek work experience in a non-governmental organization or public policy entity focusing on the Middle East.

About the Fulbright Scholar Program
Established in 1946 under legislation introduced by the late Sen. J. William Fulbright of Arkansas, the program's purpose is to build mutual understanding between the people of the United States and other countries. Fulbright Scholars are selected on the basis of academic or professional achievement and demonstrated leadership potential in their fields.  
 
MEDIA CONTACT