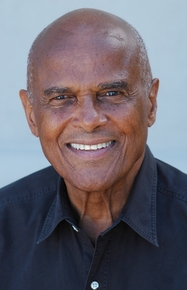 Entertainer, activist to discuss "Freedom & the 21st Century"
Harry Belafonte, the veteran entertainer, actor and social activist, will deliver The City College of New York's Black History Month keynote address, 4:30 p.m., February 24, in Aaron Davis Hall's Marian Anderson Theater. His talk will be entitled "Freedom and the 21st Century."
"Harry Belafonte is one of the towering figures of our times," said CCNY President Lisa Staiano-Coico. "As an actor and a singer he has captured the imagination of Americans -- and he has been in the forefront of the fight for civil and human rights in our time. We could not be more proud to welcome him -- again -- to City College."
Mr. Belafonte's address is open to the public but reservations are required. Call (212) 650-5414 / 8117 to RSVP. CCNY is located at 160 Convent Ave., Manhattan.
A Grammy Lifetime Achievement Award winner, Mr. Belafonte's long career in music, theatre and the movies has run parallel to his endeavors as a humanitarian and champion of world freedom. 
He developed a strong relationship with Dr. Martin Luther King, Jr., in the early 1950s and worked tirelessly to mobilize artists in support of the Civil Rights Movement. Mr. Belafonte lent his backing to "Freedom Summer," the "Freedom Riders" that rode through the Deep South to focus attention on segregation there and was a prominent figure behind the 1963 March on Washington.
In 1985, he rallied the global artistic community to raise awareness of the famines, wars and droughts plaguing many African nations. His idea for the creation of an American benefit single for African famine relief culminated in the multi-platinum hit "We Are the World" penned by Michael Jackson and Lionel Richie. The single raised more than $60 million for the cause. 
A longtime anti-apartheid activist, Mr. Belafonte hosted South African leader Nelson Mandela on his triumphant visit to the United States in 1990. He has maintained his commitment to service as a UNICEF goodwill ambassador.
Professionally, Mr. Belafonte, who was born in Harlem of immigrant parents and partly raised in his mother's native Jamaica, began as an actor.
After a stint in the Navy during World War II, he studied acting at the Dramatic Workshop of The New School in New York with the influential German director Erwin Piscator, alongside Marlon Brando, Tony Curtis, Walter Matthau and Sidney Poitier, while performing with the American Negro Theatre. 
 
In 1953, he made his film debut opposite Dorothy Dandridge in "Bright Road" and won a Tony in 1954 for his performance in "Almanac." 
At the same time, Mr. Belafonte developed his singing talents, having parlayed a series of nightclub performances into a record contract. His third album, "Calypso," topped the charts for 31 consecutive weeks and was the first record to sell more than one million copies. Mr. Belafonte also secured a television outlet with his hour-long special, "Tonight with Belafonte," which won him an Emmy. He became the first African- American television producer and his company, HarBel, went on to produce one Emmy nominee after another. 
In addition to his other numerous honors, Mr. Belafonte received the 2002 John H. Finley Award from The Alumni Association of The City College of New York. Named for CCNY's third President, it is presented annually to New Yorkers who have given exemplary service to the city.