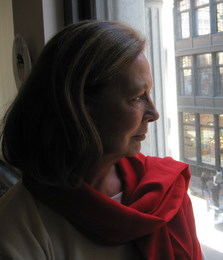 Before her death in August 2011, Lauretta Vinciarelli, the noted Italian-born artist and architect, devoted much time planning an exhibit of her architectural drawings at The City College of New York.  Seven months after her passing, "Clear Light: The Architecture of Lauretta Vinciarelli," opens in the Bernard and Anne Spitzer School of Architecture's Atrium Gallery, March 1. It runs through May 25, 2012.
On display will be more than 60 of her watercolor paintings described by architectural critics as exquisite and presenting new spaces of the almost familiar.  They include structures, shapes and landscapes highlighting an art style that crossed borders, architectural form and space, with an interest in light.
In addition, the Spitzer School will present a panel discussion on Ms. Vinciarelli's works at 6:30 p.m., on Thursday, March 22, in the Sciame Auditorium. Marta Gutman, Professor of Architecture History in the Spitzer School, will moderate a panel comprised of Columbia University faculty Kenneth Frampton and Mary McLeod, and architect Sal LaRosa, a former student of Ms. Vinciarelli.  
Both the panel discussion and exhibit will be free and open to the public.  
"Lauretta Vinciarelli was a consummate architect with great visual, cultural and artistic breadth," said George Ranalli, Dean of the Spitzer School of Architecture. "  She delineated some of the most provocative, timeless and haunting spaces drawn by any architect in history."
Ms. Vinciarelli was renowned in the architecture world for her spectacular watercolors of architectural spaces. Her watercolors have been exhibited widely. Many are in the permanent collections of prominent institutions such as the Museum of Modern Art, the National Gallery in Washington, the Archive of the Biennale di Venezia and the Italian Archive of Drawings. Others are in private collections.
Brooke Hodge, in her forward to "Not Architecture: But Evidence That It Exists," the 1998 monograph that she edited, wrote of how "Vinciarelli's work shows, indeed, how inextricably bound together art and architecture are for her and should be for more of us."
Born in Rome in 1943, Ms. Vinciarelli trained and practiced in Italy, earning a doctorate in   architecture and urban planning (summa cum laude) from Universita di Roma in 1971. She moved to New York in 1980 and would later split some of her time between New York City and Gradoli, Italy, where she was involved in restoration and garden design.
The Spitzer School of Architecture is located at 141 Convent Avenue (corner of 135th Street) in Manhattan.
For more information on the exhibit, "Clear Light: The Architecture of Lauretta Vinciarelli," please visit:/ssa/index.html or call (212) 650-6225.