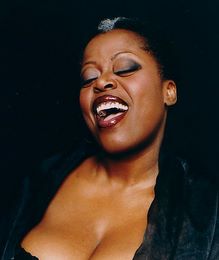 First Full Season at CCNY Performing Arts Center in 30 Years
Award-winning actors, singers, writers and dancers will highlight a star-studded 2011-2012 season of performances, exhibits and special presentations at The City College of New York's Aaron Davis Hall.
 
Broadway star and award-winning singer and actress Lillias White will perform in concert for the first time at Aaron Davis Hall 7 p.m. Friday, November 4. This concert starts the cavalcade of stars appearing at CCNY for the year-long season of activities billed "All That's City."
"I am deeply devoted to preserving and expanding the arts on campus and in this community," said Dr. Lisa S. Coico, President of City College. "Welcoming Lillias White as part of our season at Aaron Davis Hall is a wonderful way to affirm our deep and abiding ties to this vibrant community. Ms. White is someone with deep roots in the College and the neighborhood as both a student and a teacher at CCNY."
"This will be the first time in nearly 30 years that City College will present a season of world-class artists and performers in Aaron Davis Hall," added Karen Witherspoon, vice president for government and community affairs. "The College has lined up an exciting list of performers. It's a monumental time, and I hope everyone celebrates with us as we renew our commitment to bringing great art and culture to our beautiful campus for all to enjoy."
 
In addition to Ms. White, other headliners include: the Harlem Symphony Orchestra (November 12), award-winning author Edwidge Danticat (November 18) and the mother and daughter team of jazz divas Carmen Bradford and Melba Joyce (December 16). There will also be a special tribute to mambo legend and CCNY Latin Jazz Professor Ray Santos in the spring [TBA].   
Other spring offerings include:
•    "Dance: Through the African Diaspora," with Bambara Drum and Dance Ensemble and Bombayo
     (February 24)
•    Ben Vereen (February 27)
•    Paul Taylor 2 (April 26)
•    CCNY Family Arts Day (April 28)
In addition, throughout the season there will be performances by CCNY drama students. Among their shows will be "How I learned to Drive" (Oct. 20-22), "The Full Monty" (Dec. 1-3), "London Cuckholds" (March 15-17) and "Metamorphosis" (May 3-5).
"We are so excited about this lineup of performances," said Gregory Shanck, managing director of Aaron Davis Hall. "Many of the artists and creators involved have a physical or spiritual connection to City College, and it is our goal to celebrate that connection as well as their contributions to CCNY and the community."  
For more information on "All That's City," including all the performances, show times and ticket information, please call (212) 650-6900 or visit: www.adhatccny.org. Aaron Davis Hall is located at West 135th Street and Convent Avenue, Manhattan.
About Lillias White
Most recently seen in the Broadway hit "Fela!"  Ms. White is an accomplished actress and singer with a long list of honors, including Emmy and Tony awards. Her many memorable Broadway performances have earned her a Tony Award, Drama Desk Award, Peoples Choice Award and the Outer Critics Circle Award for Best Actress in a Musical -- Broadway's Prestigious Quadruple Crown -- for her 1997 role as Sonja in "The Life." In 1990 she won The Obie Award for Best Actress in a Musical for her portrayal of Hennie in "Romance in Hard Times." Ms. White's TV and film credits include featured roles in the films, "The Grinch That Stole Christmas,"  "Gloria," and Disney's "Hercules." In 1992, Ms. White won an Emmy Award for her role as Sesame Street's Lillian Edwards. In addition to numerous recordings, her singing career has been highlighted by frequent concerts at The Kennedy Center for the Performing Arts in Washington, DC; Carnegie Hall and Lincoln Center. Ms. White is also a regular guest soloist on PBS specials such as, "A Tribute to Ella Fitzgerald" and "In Performance at The White House." For more information on Ms. White and her career, please visit: http://www.lilliaswhite.com/index.asp.