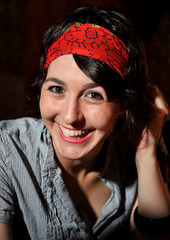 Maria Royo's MFA thesis project, "Rediscovering Pape," won a student Emmy for Best Documentary.
CCNY film Professors Andrzej Krakowski (left) and Jerry Carlson whose television shows each won two local Emmys.
Professors' Programs Earn 4 New York Emmys
For her thesis project, Maria Royo, '09 MFA, a graduate film student who attended The City College of New York (CCNY) on a Fulbright Scholarship, turned the camera on her family. The resulting film, "Rediscovering Pape," won for Best Documentary at the 31st College Television Awards and is a finalist for a student Oscar.
"Rediscovering Pape," is Ms. Royo's heartfelt attempt to reconcile her memories of a close childhood relationship with her great-grandfather, who, she learned, had a Nazi past. She travels through Europe to trace his footsteps, break her family's silence and discover the true nature of complicated choices.
The 25-minute film, which was edited by classmate Za Martohardjono, also took first prize at the Citivisions and CUFF festivals, which showcase student work at City College and CUNY, respectively. The film has also been shown at the Camerimage in Poland, Documenta Madrid, Seville Film Fest, the Women's International Film Festival in Miami, Bombshell in New York and East River Market in the Czech Republic.
Born in Seville, Spain, Ms. Royo earned a BA in audiovisual communications from the University of Seville in 2005 before coming to CCNY. She has worked on several documentary and feature film projects and as an editor for Bloomberg Television and Doblediez TV.
In another coup for City College's film program, two CCNY-produced programs scooped four Emmys at the 53rd Annual New York Emmy® Awards Gala. "Nueva York," and "We Are New York," both of which air on local television, won two Emmys each.  
In an April 18 ceremony at the Marriott Marquis Times Square, "Nueva York," CUNY TV's Spanish-language cultural series created and produced by Professor Jerry Carlson, received Emmys for Best Politics/Government: Program Feature and Best Magazine Program. It won the latter award in 2009, as well. The series' production crew includes several CCNY MFA graduates.
"We Are New York," produced by Professor Andrzej Krakowski, also garnered two Emmys. A new, innovative educational television series that is a collaboration between the Mayor's Office and CUNY, it won for writing and photography. 
MEDIA CONTACT