Miguel Santiago, Ifeanyi Nwobi and Patricia Nelson, students in the Sophie Davis School of Biomedical Education Physician Assistant program, along with trainer David Lau, have won the  New York State Medical Jeopardy Championship.  A trophy for winning was presented to the team by the New York State Society of Physician Assistants (NYSSPA) at a December 4 reception on The City College campus.
The competition, modeled on the eponymous television game show, is held annually at the NYSSPA Fall Continuing Medical Education Conference, which convened earlier this year in Saratoga Springs.  It is meant to bring together physician assistant students in a fun and competitive way for networking in a relaxed but viable environment.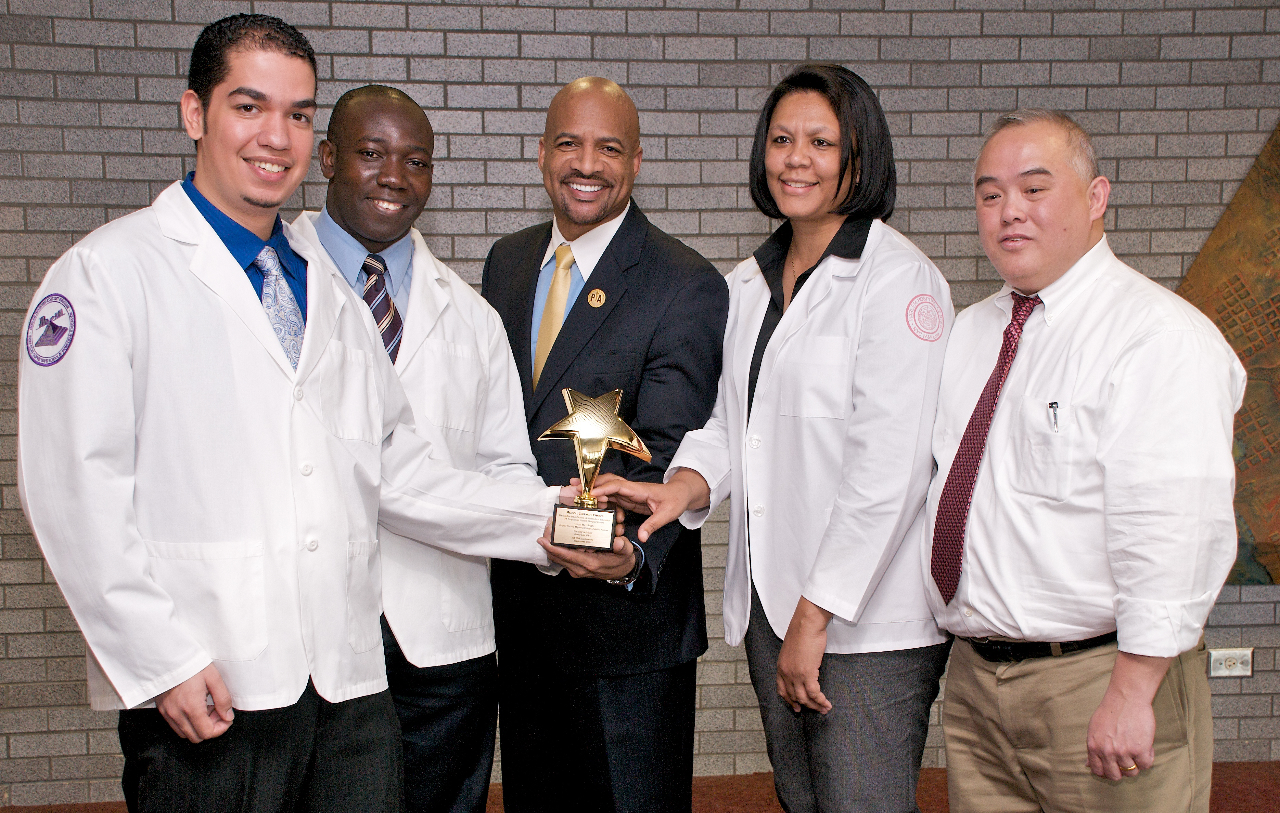 "The NYSSPA Medical Jeopardy Award comes with more than just a trophy and plaque; it comes with bragging rights and coveted job offers," said Mr. Santiago.  "The NYSSPA conference allows us to meet future professionals from other schools; it's a great way to network."
"I am happy to be leaving City College with that plaque on the wall," added Mr. Nwobi.  "To be able to achieve this, we had to work effectively as a team to really make our program shine."
"This being my first time at the conference made it a wonderful experience to win," added Ms. Nelson, who praised her teammates and mentor for their support.
During the first round, the Sophie Davis team squared off against Stony Brook University.  In the second round, the team took on Wagner College.  They defeated last year's winner, St. John's University, in the final round with a score of 5201 to 0.
The trophy presentation gave Adrian Llewellyn, President of NYSSPA and an alumnus and former director of the Physician Assistant program, an occasion to swell with pride.  "While sitting in the front seat of the competition, I felt like I was getting heart palpitations because I was so excited that they were winning," he said.  "A legacy and tradition of training the best physician assistants will continue at CCNY."
The Sophie Davis School and Stony Brook University are tied with the most wins in the competition with three apiece.  The CCNY team won the first state competition, held in 1990.